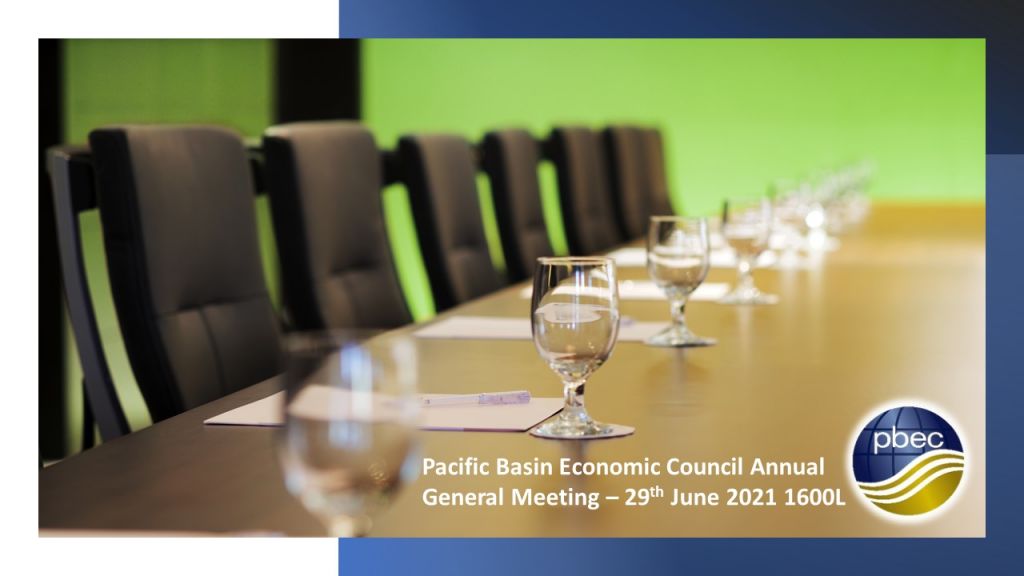 Title: Notice of The Pacific Basin Economic Council  AGM 2020
When: Tue 29th June 2021 at 1600L to 1730L (Beijing, HK time)
Where: KPMG Board Room, 8th Floor Princes Building, Central, HK.
We are planning a hybrid hosted event. A small group gathering locally (subj to regulations) and virtually accessible over zoom for all overseas members.
This is your  Notice of Meeting for the 2020 Annual General Meeting scheduled to be held in Hong Kong on Tuesday, 24th June 2021 at 4:00pm (HK Local time) at the KPMG Boardroom, 8th Floor, Prince's Building, 10 Chater Road, Central, Hong Kong as well as available over Zoom for those who cannot physically attend due to Covid restrictions.
If you are unable to attend the meeting in person, a Proxy Form is attached here (Attached) you want to appoint a proxy or representative to attend on your behalf or register to join over zoom link below.  Proxy Forms must be deposited with us not less than 48 hours before the AGM, i.e. before Friday, 20th June 2021.
Please confirm your attendance by registering here for this event or by email to michael.walsh@pbec.org
Hyperlink to zoom webinar: https://us02web.zoom.us/webinar/register/WN_9odUwB4sQZGetsrENxpJigshould