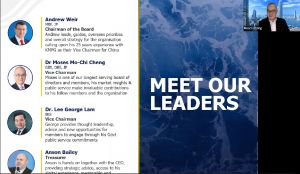 PBEC held its Annual General Meeting for 2022 on May 24th, in attendance were 24 members including several board members. Chairman Andrew Weir chaired the meeting and Vice Chairmen Dr. Moses Cheng and Dr. George Lam provided their opening remarks prior to official business of the AGM being discussed and voted on by those present.
Key Takeaways:
Anson Bailey PBEC Treasurer was pleased to report a USD20K profit for y-end 2021.
2021 PBEC Audited accounts were adopted.
Reappointment of Auditors and Company Secretary confirmed.
Dr. Moses Cheng stepped down as Vice Chairman and automatically became an emeritus board of director
Two new board members were appointed, namely Anna Lin CEO GS1 HK and Lester Huang Chairman of PC Woo & Co.
BoD Ben Simpfendorfer provided an insightful economic overview in APAC.
CEO Michael Walsh went through his CEO report and looking ahead to the rest of 2022.
To access the video recording link of the AGM, you require a secure access code. To request an access code please email: pbec@pbec.org