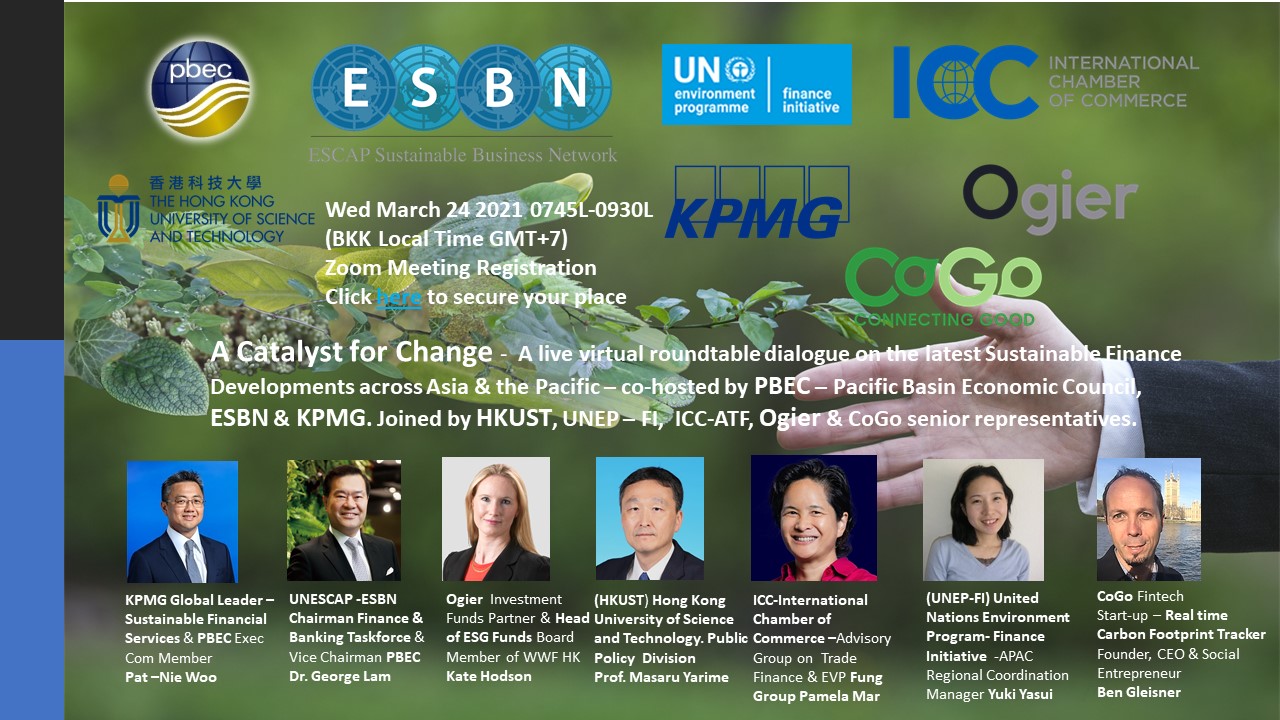 Topic: CATALYST FOR CHANGE: – Update on Sustainable Finance Activities in Asia & the Pacific
When: Wed 24 March 2021 0800-0930L (BKK Local Time)
Where: Zoom Virtual Webinar Meeting
"To meet the UN's Sustainable Development Goals by the target year of 2030, ESCAP estimates that the Asia Pacific region will need to spend USD 1.5 trillion annually — the equivalent of five percent of GDP. Governments will not be able to provision this amount of money through public finance alone. To fill the gap, they  must step up their cooperation with the private sector on sustainable finance. This will require countries across the region, especially developing countries, to strengthen their capital markets and make use of emerging sources of finance such as green bonds — now a US$500 billion market worldwide. This session will discuss sustainable finance & ESG investing prospects and challenges in the region, building off a paper jointly published by ESCAP Sustainable Business Network (ESBN), Pacific Basin Economic Council (PBEC)& KPMG in June 2020 providing a snapshot of the sustainable finance landscape across Asia Pacific."
 A live virtual roundtable dialogue on the latest Sustainable Finance Developments across Asia & the Pacific – co-hosted by PBEC – Pacific Basin Economic Council, ESBN – ESCAP Sustainable Business Network & KPMG.
Joining the discussion are senior representatives & experts from UNEP – FI (United Nations Environment Program – Finance Initiative), HKUST (Hong Kong University Science & Technology), Ogier & CoGo. You can download the white paper on Sustainable Finance 2020 report here
To register for this zoom virtual roundtable event and secure your seat click here
The following speakers are confirmed:
Moderator Pat Nie Woo Global Leader, Sustainable Finance Services -KPMG in China
Pat is a Partner of Business Reporting and Sustainability at KPMG who oversees Corporate Social Responsibility as well as being a core member of the KPMG China Steering Committee on Climate Change & Sustainability ("CC&S"). He is also a member of the KPMG Global CC&S network and Global Sustainable Finance Working Group. He has been in the field of sustainable development for over 10 years. In recent years, he has been active in the development of green and sustainable finance in Hong Kong. In 2018, he chaired a working group for the Financial Services Development Council ("FSDC") in the development of ESG policies for Hong Kong. He also represents KPMG as one of the founding members of the Hong Kong Green Finance Association which was launched in September 2018. Pat's other roles include being a member of United Nations Economic & Social Commission for Asia Pacific ("UNESCAP") and their Sustainable Business Network Task Force on Banking and Finance, executive committee member of PBEC and the Environmental and Energy Committee for the British Chamber of Commerce and a member of Climate Change Business Forum Advisory Group for Business Environment Council. https://home.kpmg/xx/en/home/insights/2018/06/sustainable-finance-fs.html
Dr. Lee George LAM President ESCAP-ESBN & Vice Chairman PBEC
President of the United Nations Economic and Social Commission for Asia and the Pacific (UN ESCAP) Sustainable Business Network (ESBN) Executive Council and Chairman of its Task Force on Banking and Finance, Chairman of the Permanent Commission on Economic and Financial Issues of World Union of Small and Medium Enterprises (WUSME), a Board member of Pacific Basin Economic Council (PBEC), a member of the Hong Kong Trade Development Council Belt and Road Committee, President of Hong Kong-ASEAN Economic Cooperation Foundation, a Vice President of the Hong Kong Real Property Federation, a founding Board member and the Honorary Treasurer of the Hong Kong Vietnam Chamber of Commerce, Vice Chairman of the Hong Kong Myanmar Chamber of Commerce, a founding member of the Hong Kong-Korea Business Council, and a member of the Hong Kong-Thailand Business Council. George is also the Chairman of Hong Kong Cyberport Management Company Limited, Non-Executive Chairman – Hong Kong and ASEAN Region and Chief Adviser to Macquarie Infrastructure and Real Assets Asia, a member of the Hong Kong Special Administrative Region Government's Committee on Innovation, Technology and Re-Industrialization, the Hong Kong Council on Smoking and Health, Convenor of the Panel of Advisors on Building Management Disputes of the Hong Kong Special Administrative Region Government Home Affairs Department. https://esbn.unescap.org/
Kate Hodson Head of ESG Funds at Ogier & Board of Director WWF Hong Kong
Kate is a partner in Ogier's investment funds practice in Hong Kong and Head of ESG Funds for the firm.  She specialises in the formation and structuring of investment funds, advising on ongoing fund operations (including regulatory compliance) and LP advisory services.  Kate's experience covers a broad range of strategies and industries, including private equity, impact funds and sustainable investment funds, hedge funds, real estate, credit funds, venture capital and infrastructure funds. She has been named one of Asia's Top 40 Lawyers Under 40 by Asia Legal Business (in both 2016 and 2019) and has been advising clients in Asia for over 10 years. Having
achieved her Masters in Energy and Environmental Law from the Chinese University of Hong Kong, she launched Ogier's Sustainable Investing and Impact Funds practice.. Kate is a member of Ogier's internal environmental working group, a member of the leadership group for Ogier's D&I initiative and also a director of WWF Hong Kong and a member of its finance committee. https://www.ogier.com/publications/the-esg-conversation-in-hong-kong
Professor Masaru Yarime HKUST Public Policy Division
Masaru YARIME is Associate Professor at the Division of Public Policy in the Hong Kong University of Science and Technology. He also has appointments as Honorary Associate Professor at the Department of Science, Technology, Engineering and Public Policy in University College London and Visiting Associate Professor at the Graduate School of Public Policy in the University of Tokyo. His research interests center around science, technology, and innovation policy for energy, environment, and sustainability, particularly exploring policy implications of data-driven innovation including AI, IoT, green finance and smart cities. He received B.Eng. in Chemical Engineering from the University of Tokyo, M.S. in Chemical Engineering from the California Institute of Technology, and Ph.D. in Economics and Policy Studies of Innovation and Technological Change from Maastricht University in the Netherlands. His previous appointments include Senior Research Fellow at the National Institute of Science and Technology Policy. http://yarime.net/
Yuki Yasui Regional Coordination Manager, Asia Pacific, UNEP FI – United Nations Environment Program – Finance Initiative
Yuki has been working on sustainable finance for the last 18.5 years.  She became the Asia Pacific Coordination Manager in July 2018 and moved to the UN Environment Asia Pacific Office in Bangkok to expand UNEP FI activities in the region. She works towards the acceleration of the development of financial institutions in the region that integrate sustainability as a value creation driver and which contribute to the UN Sustainable Development Goals (SDGs). She is a chartered accountant (ACA) and was at PricewaterhouseCoopers in London.
Ben Gleisner – Founder & CEO of CoGo New Zealand & UK
Ben is an economist, environmentalist and social entrepreneur. He has a Masters in Environmental Economics from Victoria University, where he focused on climate change policy. He then spent 7 years at the New Zealand Treasury, where he worked on domestic climate change policy and the UNFCCC international climate negotiations. While at Treasury Ben led the development of the Living Standards Framework, which underpins the current Governments Wellbeing agenda. Ben left Treasury in 2012 to found a fintech start-up, which he has now taken to the UK under the brand CoGo (integrating with 35 UK banks). CoGo helps consumers align their spending and values, including providing them a real-time carbon footprint powered by Open Banking technology. https://cogo.co/
Pamela Mar, International Chamber of Commerce Advisory Group on Trade Finance & Executive Vice President, Knowledge and Applications, Fung Group
Pamela is heavily involved with the ICC's Advisory Group for Trade Finance, chaired by Victor Fung, Chairman of the Fung Group. She leads the Fung Academy's knowledge generation, application, and dissemination in support of the Fung Group's business success and readiness for the future.  As such she directs the Academy's research & development activities and experiments which form the base of the Group's strategic response to key disruptions in its business operating environment, including technological change, the rise of sustainability, trade/geopolitical uncertainty and the changing nature of consumption. Prior to her current role, she ran the Academy's programs that support sustainable, competitive advantage in the supply chains of Fung Group companies, including the use of mobile and IOT technologies, as well as direct supplier training.
ABOUT PBEC- Pacific Basin Economic Council: Established since 1967 and is one of the oldest NGO Think Tanks operating in Asia Pacific. Its International Secretariat was relocated to Hong Kong from the East West Centre in Hawaii, USA in 2003 by the former HSBC Chairman David Eldon & one of our PBEC Emeritus Chairman, to help strengthen Hong Kong's position as an International Trade & Finance Hub. PBEC advocates for more ambitious greener & sustainable focused economic development targets to meet the UNSDG's goals. PBEC participates and contributes in regular dialogues with the APEC-Asia Pacific Economic Council Secretariat & ASEAN Secretariat from a business perspective. It prides itself on being an independent voice for business and working collaboratively with ABAC – Asia Pacific Business Advisory Council and PECC – Pacific Economic Cooperation Council over the years to support private sector initiatives and providing policy recommendations collated from its membership. 
The PBEC community is strictly by "Invitation Only" & majority made up of Chairman/Founders, senior academics and Executive board level, from many of the APEC member states. Most are keen investors themselves and interested to engage with like-minded leaders, senior government officials operating in the digital trade sector & new green sustainable economic sectors. PBEC leads our community in shaping opinions and regulation coming down the track or as required in certain sectors to facilitate the ease of conducting trade, in front of policy makers & influencers across APAC for the social good of the environment & the business community at large.
 ABOUT ESBN ESCAP Sustainable Business Network: Consisting of executives and representatives of leading businesses in a wide range of industries and sectors from across the Asia-Pacific region, the ESCAP Sustainable Business Network (ESBN) is set up to drive businesses in working towards the 2030 Sustainable Agenda and associated Sustainable Development Goals (SDGs). Members of the ESBN consist of business leaders, CEOs, representatives, and experts from or operating in regional and associate member countries/economies of ESCAP. All members conform to and promote ethical and responsible business practices, and fully subscribe to the United Nations principles and norms. The ESBN actively engages in promoting inclusive, resilient, and sustainable development through public-private partnerships, launching, and implementing activities/projects to enable the adoption, practice, and implementation of SDGs, particularly those in relation to their Task Forces.