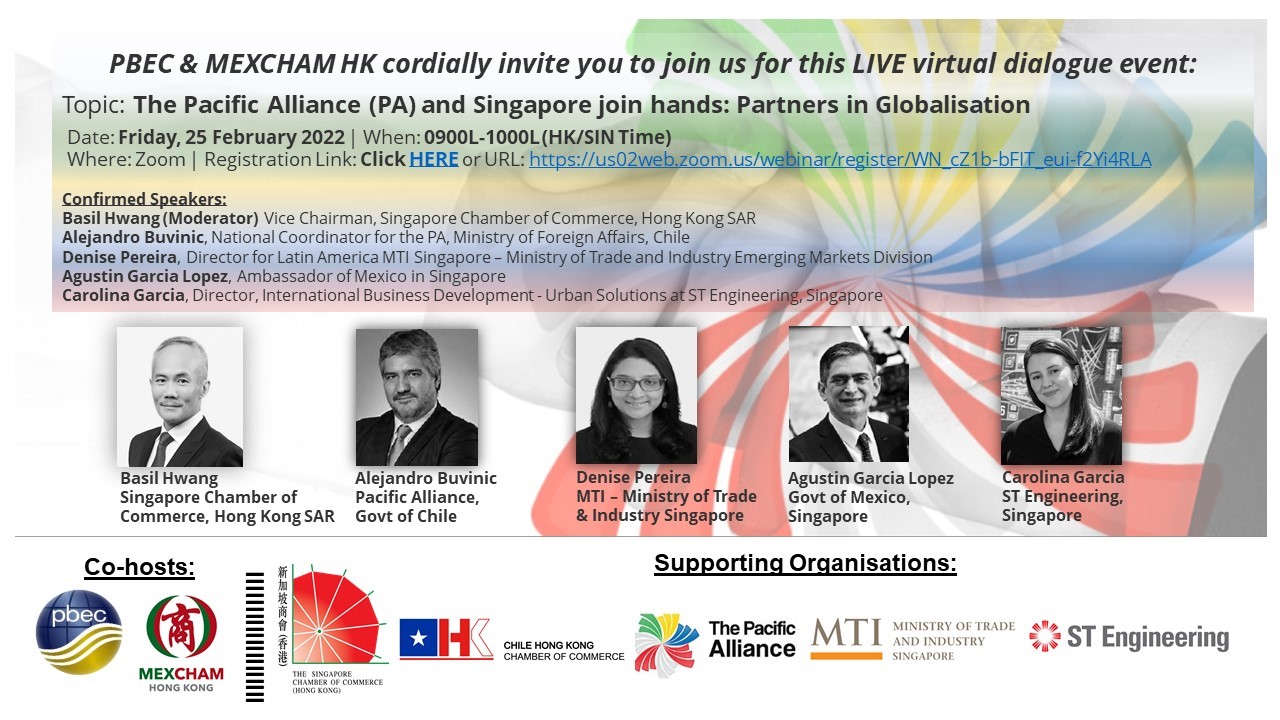 PBEC & MEXCHAM HK cordially invite you to register and attend our next LIVE Webinar dialogue on the latest PASFTA and DEPA trade agreements.
Date: Friday, 25 February 2022 Time: 0900L to 1000L (Singapore/HK Time)
Where: Online Zoom Webinar Link to register: click HERE
Description:
On 26 January 2022, Singapore signed the Pacific Alliance-Singapore Free Trade Agreement (PASFTA) with the Pacific Alliance, comprising Chile, Colombia, Mexico, and Peru. PASFTA will eliminate most tariffs and allow Singaporean firms greater market access to the four Latin American countries. The deal aids co-operation in the energy, infrastructure, digital, and food industries, as well as shipping and port logistics. This FTA is a strategic link between two progressive partners and a signal that both sides of the Pacific want to reach out to each other despite the ongoing challenges of the COVID-19 pandemic. PBEC & MEXCHAM HK bring a range of speakers on this topic to share more about what this FTA and others will mean for business, the opportunities, and the increased prospect of trans-Pacific trade.
Speakers:
Basil Hwang
Vice Chairman (Moderator) 
@Singapore Chamber of Commerce Hong Kong SAR
Basil Hwang day job is Managing Partner of Hauzen LLP. He is also the Managing Director of Hauzen Services Limited, a corporate services provider, an Executive Director of Kubes Liberal Limited and a property developer. Basil was formerly a partner of Zhong Lun Law Firm and the founding and managing partner of Dechert LLP in Hong Kong. He has also held board or supervisory positions in a number of public companies, including the following: Joint Company Secretary and General Counsel of China Shandong Hi-Speed Financial Group Limited, a company listed on the Hong Kong Stock Exchange (stock code:412) Executive Director, Company Secretary, General Counsel and Head of Development and Investments, Daohe Global Group Limited, a company listed on the Hong Kong Stock Exchange (stock code:915) Independent Non-Executive Director of First Sponsor Group Limited, a company listed on the Singapore Stock Exchange (stock code: ADN)
Alejandro Buvinic
National Coordinator of the Pacific Alliance 
@Ministry of Foreign Affairs, Chile
Chief of the National Pacific Alliance Division. Alejandro is a lawyer specializing in Foreign Trade and International Relations and Director of ProChile.
Denise Pereira
Director of Latin America 
@MTI – Ministry of Trade and Industry Emerging Markets Division, Singapore
Denise Pereira joined Singapore's Ministry of Trade and Industry (MTI) in 2003. She is currently the Director of the Emerging Markets Division, overseeing Singapore's economic engagement with Latin America and Central Asia. With the Pacific Alliance, Denise is working on the next phase of Singapore's economic relations with the bloc, after Singapore signed the Pacific Alliance-Singapore Free Trade Agreement in January 2022. Denise is also the Chief Negotiator of the Free Trade Agreement between Singapore and the Eurasian Economic Union. Denise has held various trade policy portfolios in MTI, from Singapore and overseas. She opened MTI's economic office in Jakarta and was Singapore's first Economic Counsellor at the Embassy of Singapore to Indonesia (2016-2018). She was in Geneva, Switzerland, as Singapore's lead for the WTO Trade in Goods-related negotiations, Trade Facilitation Agreement, and Chair of the Committee on Technical Barriers to Trade (2009-2012).
H.E. Agustin Garcia Lopez
Ambassador of Mexico in Singapore 
@Government of Mexico
Ambassador Agustín García-López Loaeza was born in Mexico on 5 March 1962. He joined the Mexican Foreign Service in 1991. He has held various positions at the Secretariat of Foreign Affairs, Secretariat of Finance and Public Credit, and Overseas Representations. Prior to his appointment as Ambassador of Mexico to Singapore, Ambassador García-López Loaeza was the Executive Director of the Mexican Agency for International Development Cooperation, AMEXCID, from 2017 to 2019, equivalent to the rank of an Undersecretary at the Ministry of Foreign Affairs of Mexico. A career diplomat, Ambassador García-López Loaeza has also previously served as Ambassador of Mexico to Canada (2016-2017), Ambassador of Mexico to France (2013-2016) and Permanent Representative of Mexico to the Organization for Economic Cooperation and Development, OECD (2007-2013).
Carolina Garcia
Director International Business Development – Urban Solutions 
@ST Engineering, Singapore
Currently Senior Manager at ST Engineering Electronics, a leading Information Communications Technologies (ICT) provider and co-creator of Smart City Solutions. ST Engineering Electronics is part of the ST Engineering group, a global technology, defence and engineering group specialising in the aerospace, electronics, land systems and marine sectors. Unique blend of expertise in International Business Development, International Marketing, Smart Cities, Mobility and Global Strategic Planning with more than 10 years of international experience in Emerging Markets. Presently is a Honorary member of the Management Board for the Latin American Chamber of Commerce in Singapore, promoting mutual understanding and deepening the ties of cooperation between Asia and Latin America.