PBEC AGM Notification 2022
Dear fellow Board of Directors, Members and Esteemed Colleagues of PBEC,
The Pacific Basin Economic Council and I cordially invite you to kindly REGISTER and attend this year's Annual General Meeting. This year once again we have taken the pragmatic decision to host this AGM virtually, which allows as many of our international members and partners the opportunity to attend and participate LIVE.
April 21, 2022 Business group says unclear rules pose challenges to companies Xi Jinping's government rolling out a host of major data laws China's "uniquely restrictive" data laws risk boosting U.S. firms' cost of doing business in the No. 2 economy and could lead to digital decoupling, a new report from an American business group warns.  The government's curbs on data movement across borders, ambiguous regulation and inconsistent enforcement "are particularly challenging for multinational firms," according to the US-China Business…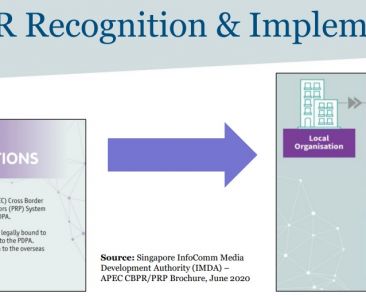 On April 21, 2022, the United States, Canada, Japan, Singapore, the Philippines, the Republic of Korea and Chinese Taipei published a declaration (the "Declaration") establishing the Global Cross-Border Privacy Rules Forum (the "Global CBPR Forum"). The Global CBPR Forum will establish an international certification system based on the existing APEC Cross-Border Privacy Rules ("CBPR") and Privacy Recognition for Processors ("PRP") Systems, enabling participation beyond APEC member economies. The Global CBPR and PRP Systems, as they will be known, are designed…
Title: Notice of The Pacific Basin Economic Council  AGM 2020 When: Tue 29th June 2021 at 1600L to 1730L (Beijing, HK time) Where: KPMG Board Room, 8th Floor Princes Building, Central, HK. We are planning a hybrid hosted event. A small group gathering locally (subj to regulations) and virtually accessible over zoom for all overseas members. This is your  Notice of Meeting for the 2020 Annual General Meeting scheduled to be held in Hong Kong on Tuesday, 24th June 2021…
The Pacific Basin Economic Council
believes that through cooperation and the exchange of ideas, the private sector can work with governments to promote significant growth and prosperity in Asia Pacific.

ISLAND DIPLOMACY
Argentinian leader Alberto Fernandez wouldn't have been counting on Olympic glory when he flew into Beijing earlier this month – his nation's athletes have competed at 19 Winter Olympic Games without winning a single medal.
But President Fernandez had bigger fish to fry in his meeting on the sidelines of the Games with Xi Jinping, his Chinese counterpart. The summit was headlined by Argentina's enrolment as the 21st country from Latin America and the Caribbean for membership of the Belt and Road Initiative. Argentina is the largest Latin American economy to join to date, with Mexico and Brazil yet to make the same commitment.
Issue: 019: April 2022
INDONESIA BANS EXPORT OF PALM OIL: Indonesia has for the second time this year banned palm oil exports. The latest ban took effect today and is a bid by the world's largest producer to lower domestic prices of cooking oils. Edible oil supplies have been significantly impacted by the Russia-Ukraine war.
AUSTRALIA IMPLEMENTS URGENT BIOSECURITY ACTION: Australia has imposed new biosecurity import rules in a bid to protect farmers against khapra beetle. The beetle is an invasive pest that poses a potential threat to grain. The new rules will require offshore certification for plant products and sowing seeds.
SUBSIDIES UNDER GLOBAL FIRE: A global study by the IMF, OECD, World Bank and WTO has called for greater international cooperation to improve information and analysis of subsidies. This could help reduce trade frictions. The study suggests subsidies appear to be widespread, growing and often poorly targeted.

PBEC – Pacific Basin Economic Council is by invitation ONLY a members based institution, that supports connectivity and cross-border regulatory standardisation efforts within APAC for all technological advancements, through dialogue, engagement and collaborative efforts.
PBEC's focus is to continual attain recognition as the most comprehensive multilateral platform for APAC business leaders to engage with, advocating key trade issues of importance under a fair rules based system, thus promoting cooperation amongst member States to achieve inclusive, sustainable economic and social development in Asia and the Pacific.
Subscribe to PBEC's Newsletter
PBEC – Promoting Trade Without Borders
2020 Asian Financial Forum