55th Annual Dialogues Summit
"Thank you very much for inviting me to this very enriching and lively discussion. In particular, it confirmed the fact that us islanders can help each other in leading the way towards achieving the UN-SDGs, or even better, the newly coined acronym RDG's that we heard at your annual PBEC summit perhaps for the first time. There is an open invitation to PBEC to pay us a visit here in Tahiti on route to APEC 2023."
Vincent Dropsy Chair of the PECC committee in French Polynesia (FPTPEC) & Professor of Economics, Codirector of the Center for Tourism Studies in Oceania and the Pacific (CETOP) at the University of French Polynesia (UPF).
"Thank you once again for the opportunity to join a stimulating & informative plenary panel this morning! Looking forward to continuing to work with you all at PBEC on these important issues."
 Stephen Jacobi Executive Director, APEC Business Advisory Council Alternate (New Zealand)
"Thank you, Michael for putting together this important session of water security and congratulations on delivering a wonderful event. Your efforts are most valued and appreciated. I continue to be an ardent supporter of PBEC and happy to participate in future activities more often going forward."
Dr. Parag Agarwal Janajal Founder & CEO & PBEC member (Singapore)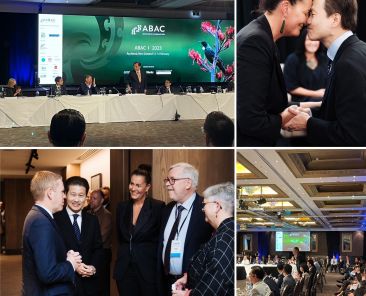 APEC NEWS RELEASE Issued by The APEC Business Advisory Council (ABAC) Auckland, 14 February 2023 – Members of the APEC Business Advisory Council (ABAC) met in Auckland, New Zealand this week to develop a work plan that calls on policymakers to leverage trade and economic policies to address the region's sustainability and economic inclusion challenges. 2023 ABAC Chair Dominic Ng noted, "APEC members need to undertake massive decarbonization of their economies while ensuring that disadvantaged parts of our communities are not…
The Pacific Basin Economic Council
believes that through cooperation and the exchange of ideas, the private sector can work with governments to promote significant growth and prosperity in Asia Pacific.
Dear PBEC members, Please find attached a letter of invitation via one of our partner organisation's Australia ASEAN Chamber of Commerce courtesy of our own PBEC Board of Director Deborah Biber from the APEC and ASEAN Business Advisory Council's of Brunei. This invitation invites you to consider attending the Brunei Business Conference on the 27th to 30th of April 2023 being held at The Empire, Brunei and the related events around the APEC Business Advisory Council along with the conference…
When: 29-30th March 2023 Where: Sands Expo and Convention Centre, Marina Bay Sands, Singapore PBEC Members are invited to attend this upcoming forum being hosted by ICC and held in Singapore. PBEC is an official supporting organisation of this Forum. The Future Trade Forum convenes business leaders, policymakers, technologists and other industry movers who are shaping the global trade ecosystem into its digital, sustainable, inclusive future. The Forum offers both birds eye and ground level views of the evolving trade…
PBEC – Pacific Basin Economic Council is by invitation ONLY a members based institution, that supports connectivity and cross-border regulatory standardisation efforts within APAC for all technological advancements, through dialogue, engagement and collaborative efforts.
PBEC's focus is to continual attain recognition as the most comprehensive multilateral platform for APAC business leaders to engage with, advocating key trade issues of importance under a fair rules based system, thus promoting cooperation amongst member States to achieve inclusive, sustainable economic and social development in Asia and the Pacific.
Subscribe to PBEC's Newsletter
PBEC – Promoting Trade Without Borders