We Cultivate Peer Leaders Connectivity to Stimulate Digital & Traditional Trade across Asia Pacific
WHY CONSIDER JOINING THE PBEC COMMUNITY?
Download the PBEC brochure   |  Download the PBEC Sponsorship brochure here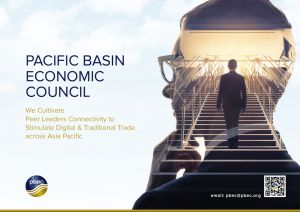 Enjoy PBEC institutional accreditation and peer recognition for your business in the region.
Get access to APEC's regional institutions through PBEC members credible network, resources and key events.
Regularly engage with investors and entrepreneurs within the membership from across the APAC region for those seeking new opportunities.
Be part of the only cross-border Peer Community for Asia's Business leaders that connects globally including the UK and European economies with Asia Pacific, sharing the latest market insights from its members, key public and government sources, hard to locate meaningful updates.
Be recognised and respected by key regional, national Governments and Think Tank stakeholders, including consulates, trade commissioners, government agencies, chambers of commerce and distinguished business leaders.
Join overseas PBEC delegations, take up speaking and moderating opportunities on behalf of PBEC and sit on certain task force committees providing inputs at APEC, ABAC, PECC, ASEAN, ICAO, WTO, UNESCAP, ESCAP Sustainable Business Network (ESBN) and Horasis leadership forums.
Join the regular PBEC Pulse Roundtable Meetings held across the region complimentary.
Enjoy discounted delegate fees to attend major events in the region of related business interests.
Receive automatic and privileged access to the APEC CEO Summit each year – an invitation only event amongst others.
Improve your personal or product / service profile through PBEC related sponsorship and co-shared booth exhibitor opportunities at key exhibitions in the region.
Receive the monthly newsletter with the latest events calendar, personal and Company profile sharing with fellow members as well as through the official PBEC social media channels.