We Cultivate Peer Leaders Connectivity to Stimulate Digital & Traditional Trade across Asia Pacific
WHY CONSIDER PBEC MEMBERSHIP?
Download the PBEC Membership brochure here  |  Download the PBEC Sponsorship brochure here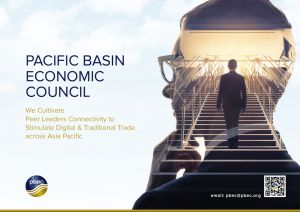 Enjoy PBEC institutional accreditation and peer recognition for your business in the region.
Get access to APEC's regional institutions through PBEC members credible network, resources and key events.
Regularly engage with investors and entrepreneurs within the membership from across the APAC region for those seeking new opportunities.
Be part of the only cross-border Peer Community for Asia's Business leaders that connects globally including the UK and European economies with Asia Pacific, sharing the latest market insights from its members, key public and government sources, hard to locate meaningful updates.
Be recognised and respected by key regional, national Governments and Think Tank stakeholders, including consulates, trade commissioners, government agencies, chambers of commerce and distinguished business leaders.
Join overseas PBEC delegations, take up speaking and moderating opportunities on behalf of PBEC and sit on certain task force committees providing inputs at APEC, ABAC, PECC, ASEAN, ICAO, WTO, UNESCAP, ESCAP Sustainable Business Network (ESBN) and Horasis leadership forums.
Join the regular PBEC Pulse Roundtable Meetings held across the region complimentary.
Enjoy discounted delegate fees to attend major events in the region of related business interests.
Receive automatic and privileged access to the APEC CEO Summit each year – an invitation only event amongst others.
Improve your personal or product / service profile through PBEC related sponsorship and co-shared booth exhibitor opportunities at key exhibitions in the region.
Receive the monthly newsletter with the latest events calendar, personal and Company profile sharing with fellow members as well as through the official PBEC social media channels.
PATRON MEMBER
USD10,000 /year
(Limited number permitted by annum x 20)
Two complimentary feature articles per annum.
One banner advertisement on the website &on the monthly newsletter.
One to one interview with the CEO for distribution as a recording through all communication channels.
One to one meetings with the Chairman and Vice Chairmen of PBEC or a selected Board of Director of your choosing.
Priority for complimentary invitations/passes and speaker opportunities, including Horasis
and ASEAN summits.
Priority to Senior Official Meeting observer passes at APEC.
Priority for other sponsorship opportunities.
Invitation to APEC CEO annual summit meeting.
Can be nominated for a PBEC vacate board seat. Subject to vetting approval and availability.
CORPORATE MEMBER
USD5,000 /year
(For corporations and companies of over 12 staff)
One complimentary feature article per annum.
Permits 3 named additional people on the account to attend and participate in PBEC activities.
Highlighted as new member joining with information about the corporation shared on all communications channels.
Permitted to host and sponsor a PBEC Roundtable event and a members site visit if appropriate.
Invitation to attend & observe APEC Senior Official Meeting– subject to availability.
Invitation to attend APEC CEO annual summit meeting.
INDIVIDUAL MEMBER
USD2,000 /year
(For UHNWI's, Business Owners, Retirees, Start-up's, Individual level)
Permits your participation in PBEC related events.
Attend PBEC roundtable dialogue discussions.
Contribute to white paper and questionnaire submissions by related partners such as UNESCAP,
WEF, APEC & ASEAN.
Access to the PBEC database of contacts via the Secretariat.
Receive latest updates and member news.
Access to the PBEC CEO and arrange one to one meetings, referrals and introductions to fellow members and senior officials.
Speaker opportunities and Newsletter/Official Linked-in content contribution.
Opportunity to pitch for funding or request mentorship from senior members.
Each level has a special 20% discount for any advanced payment for an initial period or renewal for a 2 year Membership commitment. For more information, please email pbec@pbec.org