By: Rick Rowan CEO & Founder of NuroKor BioElectronics
‍The past 12 months have been a challenging and uncertain time for all industries – none more so than the healthcare sector.
And with England now in its third national lockdown and with the pandemic resulting in unrelenting strain on the National Health System (NHS), healthcare professionals are turning to innovation to ease the burden.
The need for advances in technology to tackle the challenges impacting hospital and community care, is undoubtedly more pressing than ever. Fortunately, the health-tech ecosystem in the UK is thriving and innovators, entrepreneurs and clinical experts are responding with an even greater sense of resilience and optimism.
The demand for more streamlined patient pathways, quicker and easier access to treatments and more localised healthcare services is growing, along with the urgency for the solutions.
Alongside this, leading healthcare disruptors, including NuroKor BioElectronics, are realising unprecedented growth, investing heavily in exciting R&D programmes which promise to shape the technology of the future.
Operating across the UK, Norway, France, Ireland, US, Australia, New Zealand and Malaysia, the company develops and produces state-of-the-art, wearable technology using peripheral nerve, microcurrent and neuromuscular stimulation, to help manage pain and optimise healing and physical performance.
NuroKor's users range from more than 40 Olympians and elite athletes, to clinicians and everyday people suffering with an array of conditions – from arthritis to menopause. The company's technology enables greater autonomy over a person's own treatment and can reduce the need for medication.
The start of 2021 marked the launch of its ambitious growth plans, with the opening of a research and development base in Cardiff, Wales, to further advance its clinical programme, while simultaneously launching a £10m Series A capital raise.
NuroKor founder and CEO Rick Rowan said: "Out of the desperately bleak times during the pandemic and subsequent lockdowns, we have seen significant increase in demand for cutting-edge healthcare technology from both consumers and healthcare professionals.
"There has been a paradigm shift in the way that patients want to receive care and the type of medicine that they are seeking. People are clearly demanding more autonomy over their own care and recovery and bioelectronics offer a natural, easily manageable option."
Investment in health-tech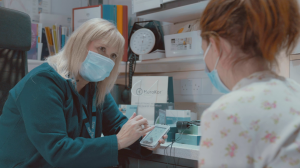 It is unsurprising, therefore, that healthcare professionals are not only calling out for more innovation in the health-technology space, but are now funding it with their own investment.
Fuelled by a desire to find solutions that make their own jobs easier and improve the lives of their patients, the number of medical and health professionals seeking innovative tech companies to support, is on the rise.
NuroKor has witnessed a growing awareness among the healthcare community of bioelectronic therapy and its role in treating chronic pain and tissue repair.
This was also reflected in the McKinsey released article last year 'Bioelectronics 'jump-start' the next wave of device therapeutics', in which the potential of bioelectronics to become a pillar of medical treatment was highlighted.
The growing exposure and awareness are piquing the interest of many clinical experts looking to invest in growing health-tech companies that they believe will make a real and tangible difference to existing patient pathways and treatments.
Over the past 12 months, NuroKor has received investment from 19 new healthcare professionals – all of whom recognise the immense potential in bioelectronics.
Their clinical backgrounds mean they not only understand how the technology is helping chronic pain and giving patients greater autonomy – but also how it can ultimately relieve some of the pressure clinical practitioners, like themselves, face.
There are also potentially significant economic gains for the NHS, with the technology offering a cost-effective, drug-free alternative to conventional medication.
Rowan adds: "Endorsement from some of the brightest clinical minds in our industry is testimony to the hard-work, commitment and creativity that our team members at NuroKor deliver on a daily basis. It is also an important reminder that we, as well as the many other clinician-backed health tech innovators out there, are in the best possible place to deliver solutions that will truly shape the future of healthcare in years to come."
From patient to disruptor CEO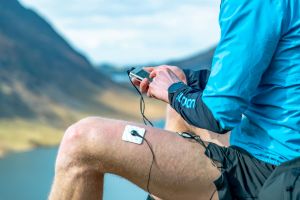 Entrepreneur Rowan spotted the immense and underdeveloped potential of bioelectric technology as therapeutic electroceutical applications while searching for an alternative to painkillers to treat his 30-year back pain.
He then began a seven-year journey, developing a ground-breaking application using the latest technology and best available medical evidence.
He recalls: "Like so many people with chronic pain, I resolved to live with it as best I could, usually leaning on different variations of anti-inflammatories and strong painkillers. When you're in that much pain, you reach untold levels of desperation in an attempt to make it stop, even for just a brief moment.
"Knowing the side effects from long-term pain medication, as well as just how addictive they can be, I wasn't prepared to accept that as my future. I was fortunate enough to be given the opportunity to trial a basic nerve stimulator, which provided me with my first foray into the world of bioelectronics."
Rowan later commissioned several research papers and published white papers on the benefits and effects of bioelectrical treatments. He also developed the world's first ultra-wearable, dual-treatment, bioelectronic device in Australia, before moving to the UK and forming NuroKor in 2018.
He said: "We are unrelenting in our aim to bring about social change, developing personalised bioelectrical technology that helps people to live better lives and improves global health.
"I've made it my mission to drive awareness of other technology to encourage new alternatives – at NuroKor we will always be collaborating and innovating."
To demonstrate this first-hand, in August, the fast-moving startup launched personalised health profile KorDNA in a partnership with fellow UK innovator Muhdo. It brings together the science behind bioelectronics and DNA data sequencing, to personalise the recovery processes that occur post-workout, injury, and illness.
Today, NuroKor technology is at the forefront of bioelectric technology, with several research and clinical trial projects running in collaboration with some of the UK's leading NHS Trusts and universities.
To find out more, visit: https://nurokor.com
And connect with Rick Rowan on LinkedIn https://www.linkedin.com/in/rick-rowan/
About NuroKor Electronics 

A medical technology company specialising in non implantable electroceuticals, bioelectrical medicine, development of it's technology and making a positive impact on quality of life on a global scale.