In recognition of #IWD2020 we shine a SPOTLIGHT on some incredible Women Leaders within PBEC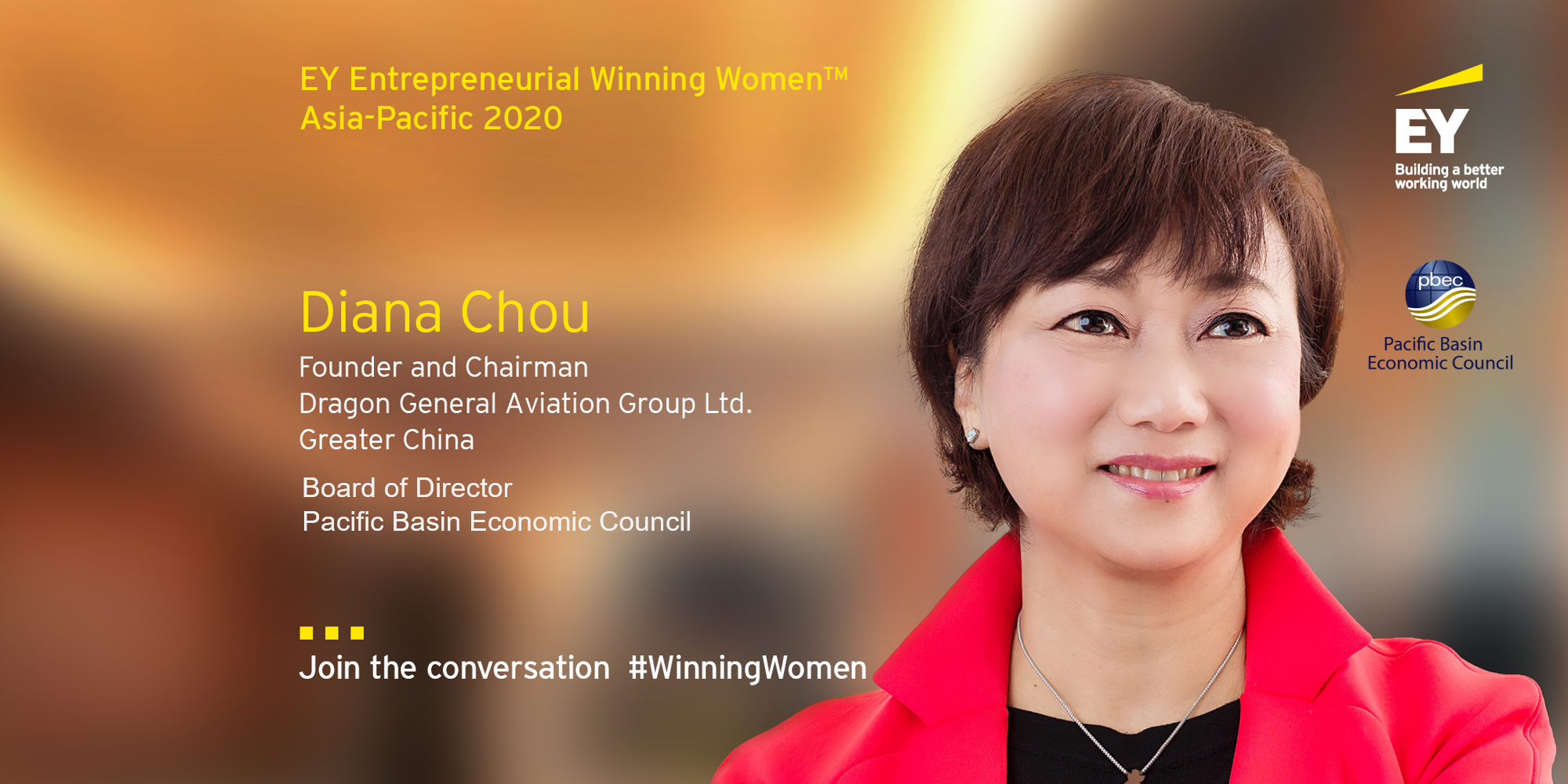 EY announced today that Diana CHOU, Founder and Chairperson of Dragon General Aviation Group (DGA Group – parent company of L'VOYAGE, JET8 and Aerochine) , was chosen as one of 22 women founders selected for the EY Entrepreneurial Winning Women Asia Pacific Class of 2020.
Launched in the US in 2008, the program has identified more than 750 women entrepreneurs across different industries.
As the only Hong Kong winning woman in the 6th cohort of the Asia-Pacific program, Diana is honoured and happy to be recognised for the success that DGA Group has achieved over the past 20 years in   pioneering general aviation in Asia.
"We aim to lead Asia's general aviation industry by championing education, safety and innovation. We are a customer-centric organization committed to providing tailored solutions for our clients and providing them with unrivalled knowledge to make informed business decisions." said Diana CHOU.
About Diana CHOU
Diana Chou is the Founder and Chairman of Dragon General Aviation Group (DGA), headquartered in Hong Kong. The company has been at the forefront of the general aviation industry in Hong Kong, mainland China, and Macau, and offers a wide range of solutions for the general aviation and business aviation sectors.
Diana is an innovator in the Asian business aviation industry. Being the first woman to sell private jets in Asia, Diana has been at the forefront of the development of the industry for the past 20 years. Under her leadership, the company established offices in Hong Kong, Beijing, Shanghai, Ningbo, Zhenjiang and Malaysia. DGA encompasses four distinct brands — Aerochine, L'VOYAGE, JET 8 and L'VOYAGE Travel — providing end-to-end solutions for the general aviation and travel industries.
Diana holds an MBA in Marketing from the University of East Asia, Macau, and a bachelor's degree in Political Science and Linguistics from the University of Washington. Holding numerous advisory roles in Asia's business and aviation sectors, Diana is a strong and regularly quoted advocate for better aviation standards as well as developing talent in the fast-developing general aviation industry in the region. She is a founding member of the Board of Governors of the Asian Business Aviation Association (AsBAA) and was also awarded the "Businesswoman Leader of the Year" in 2015 in recognition of her stellar achievements and contributions to the industry. In 2010 and 2012, Diana was named "Woman Entrepreneur of the Year" by the All China Women's Federation.
Jennifer Lai is the Managing Partner and Head of North Asia at Henley & Partner, the global leader in residence and citizenship planning. With over 20 years of wide-range experiences in global business development with focus in China, she oversees markets in North Asia including Hong Kong, Macau, Taiwan, China, South Korea, and Japan.  She formulates strategies in providing residence and citizenship planning to private clients as well as advisory services to organizations and elites across the finance and immigration industries.  Her unique perspectives and professional insights on migration trends at numerous international conferences on family wealth planning, offshore investments, and residence and citizenship planning are highly valued by her clients and business partners.
Passionate about her work, it is Jennifer's 10th year at Henley & Partners, she has accumulated extensive experiences in advising business partners, advisors in the industry, clients and families on obtaining alternative residency and citizenship. Attention to details, thorough planning and careful discussion prior to making the final decision are what she emphasizes.  Choosing a suitable destination as PLAN B, a comprehensive understanding of the country's economy and political stability, policy & procedures, global mobility, education, business or investment commitment, etc. are necessary.
Fluent in several languages spanning Europe and Asia, she is the prime example who embraces different cultures and dedicates herself to conserve traditional Chinese culture through a series of activities.  She also devotes her free time to promote cultural communication and cooperation among mainland China, Hong Kong, Japan, and other countries. Another significant point about Jennifer is that she is the only female Asian executive in Henley & Partners, so she is particularly enthusiastic in sharing her experiences and opinions on how to step forward as a female executive and professional in the workplace.
————–
About Henley & Partners
Henley & Partners is the global leader in residence and citizenship planning. Each year, hundreds of wealthy individuals, families and their advisors rely on our expertise and experience in this area. Our highly qualified professionals work together as one team in over 30 offices worldwide.  The firm also runs a leading government advisory practice which has raised more than USD 8 billion in foreign direct investment. We have been involved in strategic consulting and the design, set-up and operation of the world's most successful residence and citizenship programs.
Join the Conversation #winningwomen