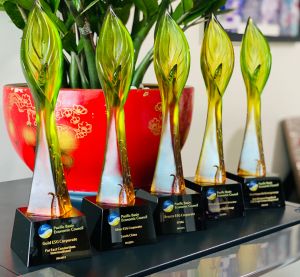 PBEC is pleased to announce the 2022/23 winners of its re-established Environmental Annual Awards renamed 'The PBEC ESG Corporate Governance Annual Awards'. These are strictly non-sponsored or financially influenced awards judged on sheer merit.
For this first return of these annual ESG awards after a 16-year hiatus (previously named the PBEC Annual Environmental Awards from 1998-2006), the assessment and judging was conducted by the PBEC International Secretariat only. The award selection was based upon pre-established criteria and comparative analysis of public records availability, including access to Annual Reports/PR's, company website and social media official channels as well as commentary in the news, that comprised of the following 5 key areas:
Compliance with Current Regulations
Corporate Policy Targets in-line with Global Targets
Overall Improvement in Business Processes
Pollution Reduction Impact/Protection Efforts of Finite Resources
Increased Awareness Outreach
After assessing all of our PBEC members we drafted a shortlist of finalists who qualified based on the five above-described criteria and each were given a weighted score per category.
The PBEC 2022-23 Winners I am pleased to announce are as follows:
Gold ESG Corporate Governance – Far East Consortium International Ltd
Silver ESG Corporate Governance – Sands China Ltd
Most Responsible Investor – VinaCapital Corporate Finance Vietnam Co. Ltd
Most Impactful Entrepreneur – Ben Gleisner Founder & CEO Cogo Connecting Good
For full details on our criteria and why these firms and individual qualified, read more HERE
Many congratulations to all this year's PBEC ESG winners. PBEC very much look forward to growing awareness and competition around becoming a finalist for these annual awards in the years to come. Our hope is that they will act as an important barometer on how are own members and wider community are seeking to meet their own Environmental, Social and Governance targets and inspire others to follow suit.