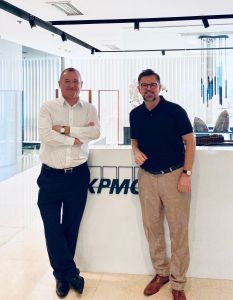 PBEC CEO Michael Walsh took the opportunity to visit some of the PBEC members in HCMC and Hanoi on his recent trip to Vietnam over the Chinese & Tet New Year 2023.
"I had the chance to sit down with KPMG Chairman and CEO Warrick Cleine of Vietnam and Cambodia at their office in HCMC. It was lovely to have this opportunity to sit down together and share each others views on the hot issues and areas of focus for PBEC this year, as well as hear members own outlooks for the region in 2023. In particular on everyone's mind was the recent changes in leadership within Vietnam political hierarchy. The Former President Nguyen Xuan Phuc resigned and retired shortly before the New Year holidays began and since then, we have witnessed a consolidation of power under communist party chief Nguyen Phu Trong. What does this mean for Vietnam's economic prospects as one of the main beneficiaries of the China +1 strategy of many manufacturers over the past 5 years. According to Warrick, no changes are expected in policy towards attracting and retaining foreign investment either planned or ongoing within the country. However it does dent ones perception of stability perhaps when assessing medium term risks. There is a lot of competition within ASEAN economies to attract DFI with big incentives on offer depending on the locality, industry sector and size of investment, one is considering. This means Vietnam needs to ensure it can shake off any perceived discord within the communist party and that its ongoing anti-corruption drive doesn't stifle its growth trajectory."
It was interesting to also hear the lack of enthusiasm for Hong Kong's re-opening and efforts so far to attract people back. With a majority view that Hong Kong will remain an important source for finance and outbound from China, but its less significant or important as it once was to Vietnam leading firms and individuals.
Singapore has and continues to benefit from outbound investment from Vietnam HNWI's and Corporations according to VinaCapital as well as family office activities.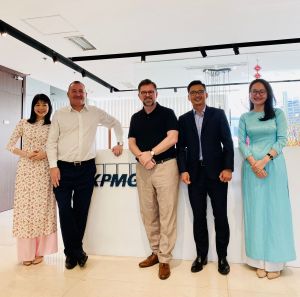 "Whilst we get to hear from members over zoom/teams regularly these past 3 years, its still vitally important to take the time and effort to re-establish the human interactions and connections that enable you to chat freely on a host of subjects. Hence this is the plan for 2023 to be visiting our members across the region where possible. My own experience of Vietnam after a 3 year hiatus is that its done extremely well economically to navigate covid lockdowns and supply chain restraints and to keep its GDP growth in a robust/healthy level. Tourism has also returned with abundance and I was pleased to witness a higher level of customer service than experienced ever before. You can feel employers have invested and made efforts in training front-line staff to provide a higher level of service, especially in handling complaints. I am not going out on a limb and saying its on par with Thailand as yet, but they have narrowed the gap. There are signs of frustration though amongst workers, especially in the service sectors, whose wages have not yet returned to pre-covid levels and remain on average at 75-80%. How long this is tolerated for, time will tell, but in order to retain service levels and keep on the improvement track, wage levels especially given the inflationary effects on food need to be kept a close eye on. It can also have an effect on availability of skilled factory workers, when a new incumbent sets up shop within the same economic industrial park or locality and decides to poach workers for a small increase in wages, which seems to be the case in recent months, which has caused further frictions. The local property market has also cooled significantly since December and post Tet New Year, after being pretty active in the autumn of 2022. Many new developments have been put on hold or are delaying their completion date, due to a lack of buyer interest to place deposits down and cashflows being tightened. One area that was bucking the trend is the Vietnam stock market which has performed well in January, however in the past few weeks or so, equity prices are reflecting the cautious outlook of liquidity and potentially some bad debt pressures that are being factored into the market ahead of time. Second half of 2023 is predicted to see less pressure on the Vietnam Dong against the US Dollar and interest rates will also likely be tapered back, due to improving FX reserves, and expected end to rate hikes to curb inflation by the State Bank of Vietnam. But let's see what happens. One personal tip though, don't plan a tour or visit Hanoi and North Vietnam during the Dec-Feb period. The North is now regularly suffering from dangerously high air pollution levels, due to seasonal weather patterns, a lack of wind to disperse it, with the sheer intensity of industrial development and coal-fire power stations output these days. There is no quick fix solution to obtaining net-zero or even manageable levels here anytime soon. With that said, economic growth should not be at any cost, especially not to the detriment of the local environment or the populations health, given what we know are the adverse effects these days. The Government and those responsible business leaders should go the extra mile to ensure best practises are adhered too and proactively seek to mitigate or ban unnecessary pollutants as a priority. Local Government officials should be provided with sufficient funding and tools to conduct regular and proper oversight with increased deterrents and heavy fines for non-compliance. Just my personal opinion, more can be done to protect the youth and elderly from these this harmful events that are unfortunately becoming the norm in parts of Vietnam. I thought the idea was not to repeat past mistakes of neighbouring countries." Said PBEC CEO Michael Walsh