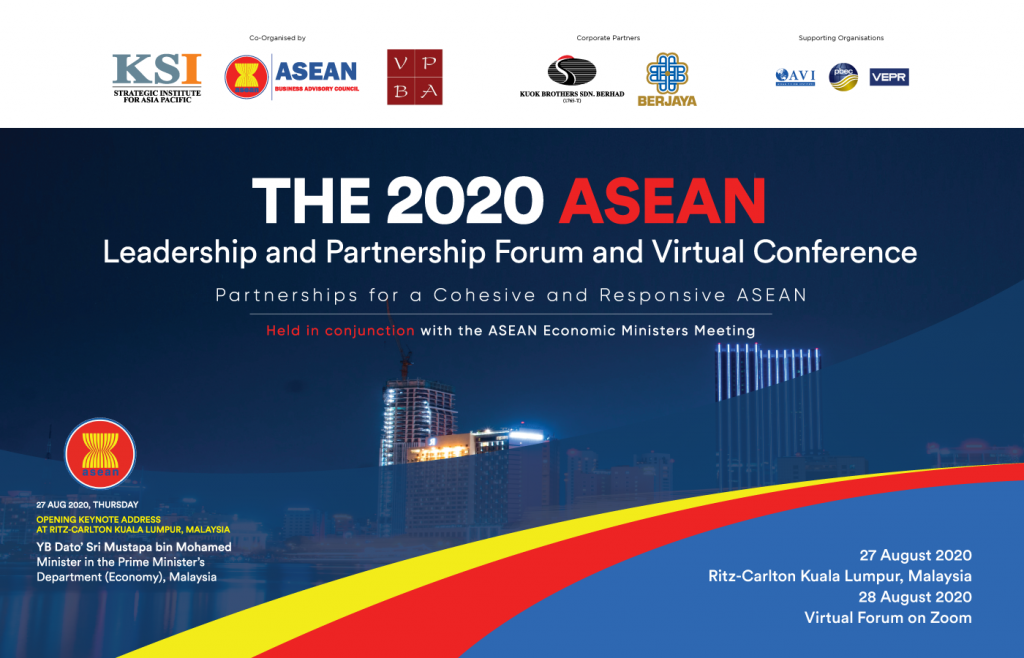 PBEC members in Malaysia are invited to register to join in person and all others can join the zoom session in the AM. PBEC speakers include , Dato Henry Goh, Tan Sri Goh Peng Ooi, Ravindra Ngo and PBEC Chief Executive Officer Michael Walsh
The ASEAN Leadership and Partnership Forum is a leading Forum that bring together Leaders from Government, Business, Think Tanks and Civil Society to discuss and evaluate the strategic challenges facing ASEAN and it's immense opportunities as one of the world's most robust regions with a combined GDP of USD 2.3 trillion (making it collectively the world's 6th largest economy) with a population of 620 million.As ASEAN moves forward towards 2025 it faces numerous challenges with a changing global economy, yet ASEAN abounds with opportunities particularly in the Digital Economy, enhanced connectivity and growing intra ASEAN trade and investment.
The 2020 ASEAN Leadership and Partnership Forum will focus on "Partnership for a Cohesive and Responsive ASEAN".
The Forum will update participants on the major trends, key issues and business and investments opportunities in ASEAN. It is a meeting of minds that enable participants to feel pulse of ASEAN. This high-level Forum will also discuss how responsive ASEAN can be to Global economic challenges and geo political trends. It will also evaluate the progress of ASEAN connectivity.
27 August 2020 (Thu) 12:00pm-5:15pm
@The Ritz-Carlton Hotel KL
28 August 2020 (Fri) 9:15am-12:45pm
@ Virtual Forum on Zoom
THE 2020 ASEAN Leadership and Partnership Forum & Virtual Conference
Offline Registration & Enquiry: https://kasi.asia/event-registration