CHARTING A NEW COURSE IN ASIA PACIFIC
Regional trends in Global Sourcing
Report Foreword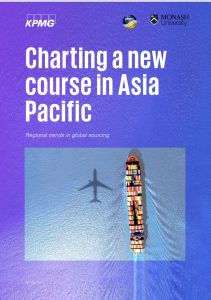 As businesses assess their operational capacity needs for a predicted bumpy recovery, to recalibrate during and post-pandemic, it is crucial to understand what brought us to this point and where it is likely leading us.
The Pacific Basin Economic Council (PBEC), Monash University Malaysia and KPMG, together with contributions from PBEC members, are pleased to publish this 2022-23 report on global sourcing, reviewing the most recently announced supply chain and sourcing movements in the region, in what we describe as "Charting a new course in Asia Pacific" – regional trends in Global Sourcing.
The data in this report, provided in collaboration with Monash University Malaysia, comprises a sample of 132 companies that are considering changing or have already altered their supply chain destinations between 2018 and 2023, covering 232 sourcing market moves.
Through web scraping 1,089 relevant news articles were collected from multiple sources, as well as company reports published between 1st January 2016 and January 31st, 2022. In addition, official information and company documents were collected from companies' webpages as a "measuring stick" to ensure the accuracy of the information. Further research and commentary was sought right up to the end of 2022.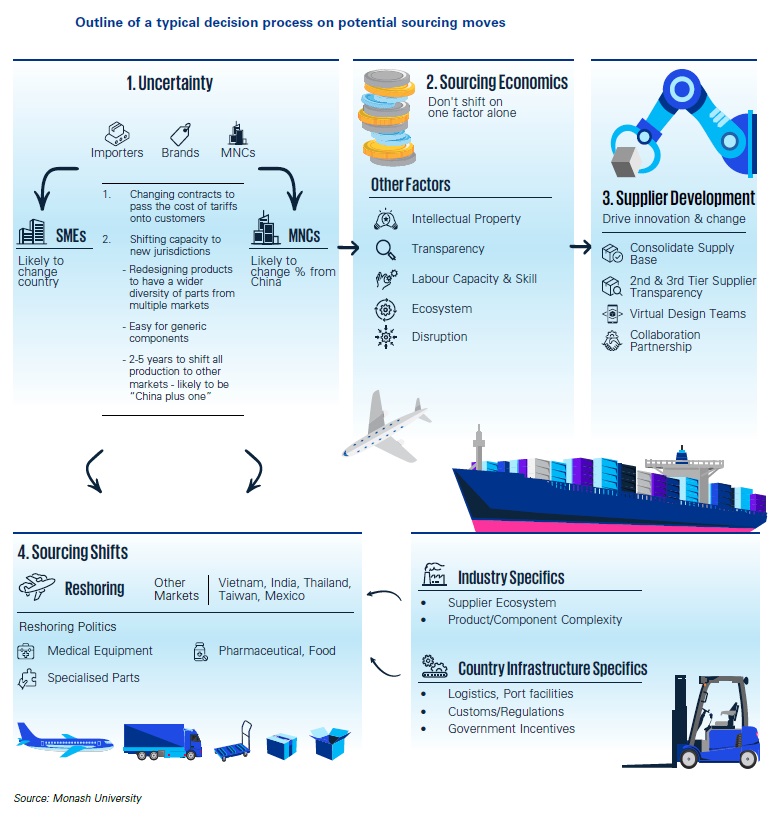 The report provides some key takeaways and recommendations for business leaders to consider. More importantly, it provides an up-to-date guide on navigating your business through these turbulent times.
The report seeks to evaluate the trends and examine the following three areas of interest:
The What – Specific regional factors arising from the ongoing developments in the US-China trade relationship, the economic sanctions imposed on Russia, and finally, the increasing politicisation of economic trade and its encompassment through the lens of national security policy.
The Where – Different trends emerging within each industrial sector and the factors/incentives determining business leaders' decisions, resulting in strategic decisions on where to move their sourcing and production capacity, and whether it is ultimately one or multiple alternate destinations they move too.
The How – Which factors affect companies' decision-making in the Asia Pacific region; companies are looking to re-evaluate the markets involved in their sourcing and supply chain operations.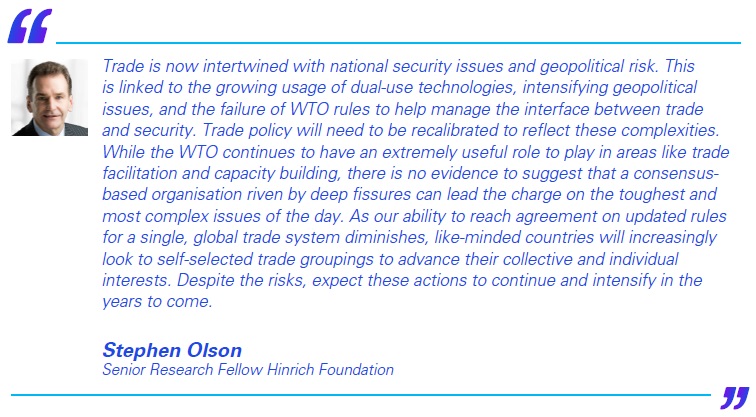 The initial observations from the data are that an extensive overhaul of supply chains and sourcing moves are not necessarily taking place in Asia Pacific, or not to the extent one might imagine. It suggests a more considered approach to the pandemic's supply chain impacts in the region and highlights other reasons behind the movements in capacity. There is a more bullish view on globalisation from Asian-based business leaders, and an increasing appetite for investments in technology to enable increased visibility and traceability to manage supply chains.
Some of the trends observed from the data have placed leading brands and corporations under a magnifying glass, to a point where it became an urgent requirement to obtain the ability to track and trace their supply chains beyond tiers 1 and 2. This has led many companies to upgrade their I.T. capabilities and cyber security protocols and announce strategic partnerships and acquisitions in the ESG specialist space. It proves the importance the global business community is putting on this transition to a digitally enabled circular economy, with reputational risk and public perceptions high priorities at the boardroom level.
We hope you will find this report helpful, and we welcome your opinion on the sourcing shift patterns in Asia Pacific.
To view and download the full PBEC Global Sourcing 2022-23 report, please click HERE