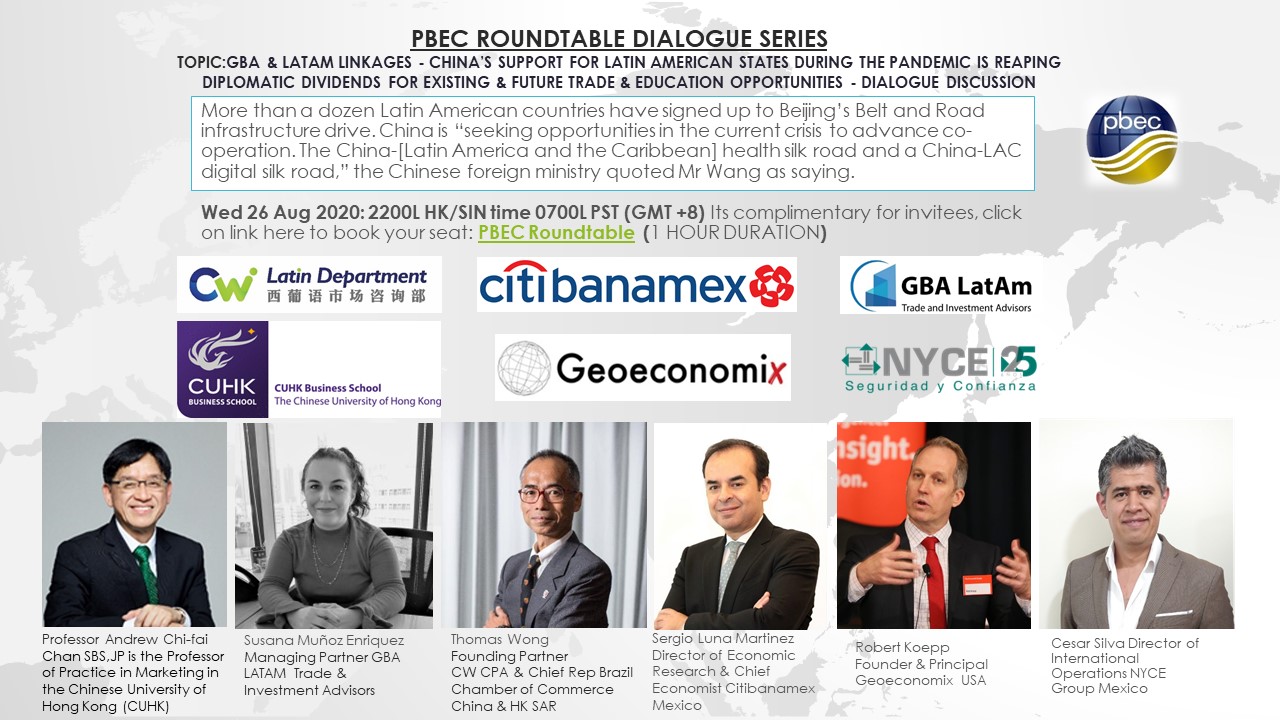 You are invited to a Zoom webinar.
GBA & LATAM Linkages – China's support for Latin American states during the pandemic is reaping diplomatic dividends for existing & future trade & Education opportunities – dialogue discussion
More than a dozen Latin American countries have signed up to Beijing's Belt and Road infrastructure drive. China is "seeking opportunities in the current crisis to advance co-operation. The China-[Latin America and the Caribbean] health silk road and a China-LAC digital silk road," the Chinese foreign ministry quoted Mr Wang as saying.
When: Aug 26, 2020 10:00 PM Hong Kong SAR
Register in advance for this webinar:
https://us02web.zoom.us/webinar/register/WN__ZB0MTjjQaysWBGNKtcvww
After registering, you will receive a confirmation email containing information about joining the webinar.
Please join a wonderful line-up of Speakers we have put together for you.
Thomas Wong Moderator (Founding Partner @CW CPA)
Mr. Thomas Wong is the founding partner of CW CPA, an international mid-sized professional accounting and advisory firm based in Hong Kong with also offices in Shenzhen, Guangzhou, and Shanghai of China as well as having a business desk in Barcelona and London too. He looks after many matters of CW CPA, particularly the business development and strategies of the firm. He has been recently appointed Brazil Chamber of Commerce chief representative to China & HK & is a Board of Director of PBEC covering the Latam region.
Susana Munoz (Managing Partner @GBA LATAM Trade & Investment Advisors Limited)
Susana Munoz is an international business advisory expert and managing partner with GBA LatAm Trade and Investment Advisors. She specializes in comprehensive business start-up strategy, economic policy and regulation in the Greater Bay Area region, product development and cross-cultural communication for international businesses. Susana has been living in Hong Kong since 2012. First as part of the start-up project for Great Place to Work's office in the Greater China region, and later, as Counsellor and Representative of Mexico's Ministry of Economy.
Sergio Luna Martinez (Director of Economic Research & Chief Economist @Citibanamex)
Sergio Luna is Citibanamex, Mexico City Chief Economist – he has been involved with APEC throughout his years. Sergio worked as Mexico's economic forecaster at APEC. It is a body and regional institution that he sees becoming vitally important again for Asia Pacific economies especially Mexico in a Covid recovery world, especially in relation to new trade relations and its future economic development.
Robert Koepp, (Founder & Principal of Geoeconomix)
Robert Koepp is the founder and principal of Los Angeles based Geoeconomix, an independent source for insights into the economics moving global markets, driving technology, and influencing government power. An internationally active commentator, writer, and media producer, Rob founded Geoeconomix following years of global experience in analysis and thought leadership in the fields of economics, finance, business strategy, and public policy.
Professor Andrew Chi-fai Chan, SBS, JP (Professor of Practice in Marketing in the Chinese University of Hong Kong (CUHK))
He is the former Director of CUHK EMBA Programme from 2002 to 2020 and Head of Shaw College from 2010 to 2020.  He has been invited and accepted to be the Vice Chairman of the Board of the Greater Bay Area Business School in Shenzhen by the Edvantage Group Holdings Limited from July 2020. He also holds several high ranking public service positions and sits as a non-executive director at Tao Heung Holdings Limited, a company listed on the Hong Kong Stock Exchange Main Board.
Cesar Silva (Director of International Operations at NYCE)
He holds the position of Director of International Operations at NYCE and is responsible for all operations outside of México that includes Colombia, Panamá, Costa Rica, Perú, Ecuador, Hong Kong and Greater China. The International Operations Division of NYCE assists companies to reach markets in Latin America where there is local mandatory compliance of regulations. Mr. Silva graduated from University of Ottawa in Canada and National University of México both Summa Cum Laude as a Bachelor of Science in Industrial Engineering.