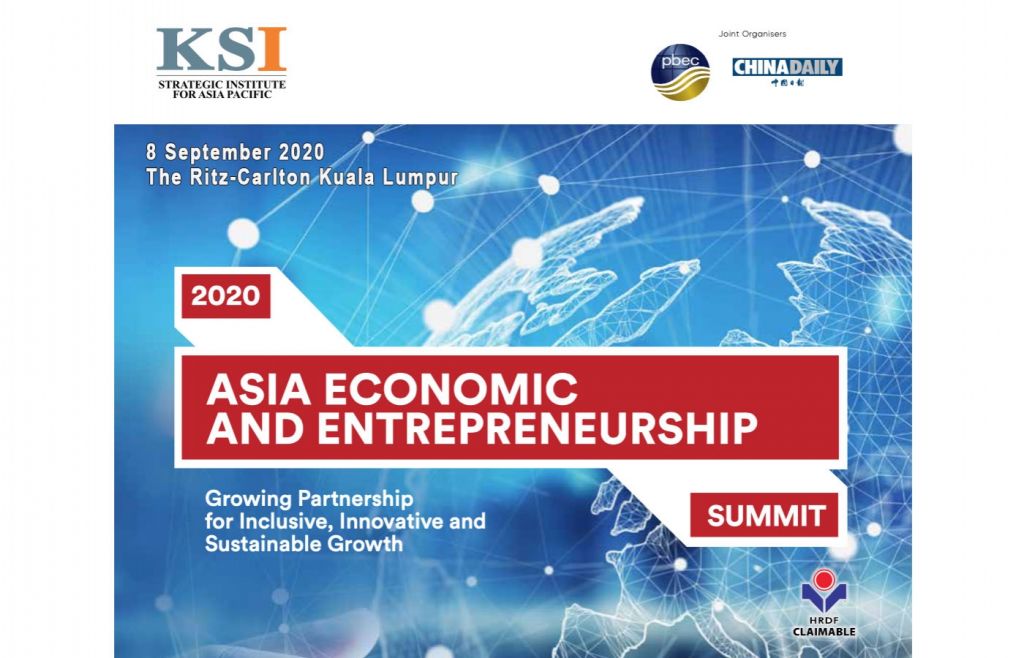 Confirmed PBEC Member speakers are: Tan Sri Dr. Lim Wee Chai, Tan Sri Goh Peng Ooi, Dr. Oh Ei Sun and Dato Henry Goh.
Growing Partnership for Inclusive, Innovative and Sustainable Growth
About the Summit
In 2020, Malaysia will host the Asia Pacific Economic Cooperation (APEC) Summit. The Asia Economic and Entrepreneurship Summit will be convened to commemorate and celebrate Malaysia's hosting of APEC 2020. It will be co-hosted by the Pacific Basin Economic Council (PBEC), one of the oldest business organizations in the Asia Pacific.
• The 2020 Asia Economic and Entrepreneurship Summit is a high level Forum bringing together Government, Eminent Business and Industry Leaders, Think Tank and Thought Leaders as well as Leaders from Civil Society Organizations to deliberate on the challenges facing the Asia Pacific region and the future of Asia in this new era of disruption, trade wars and sustainability.
• The Future of Asia will to a large part be shaped by China, India, Japan and ASEAN. Asia needs the 4E's – economic growth, employment opportunities, education and human capital development and environmental sustainability.
• Asia also needs inclusive and sustainable development as well as a stronger focus on achieving the United Nations Sustainable Development Goals (SDG's). A stronger tripartite partnership is needed between Government, business and civil society to realize the SDG's. The UN ESCAP estimates that Asia Pacific needs an additional investment of USD 1.5 trillion to achieve the SDG's. Greater efforts must be pursued to achieve the 4P's – Planet, People, Peace, Prosperity and Partnerships.
• In conjunction with the Asia Economic and Entrepreneurship Summit, there will be an Awards Ceremony to present Asia Pacific Excellent Lifetime Achievement Awards and Asia Pacific Distinguished Entrepreneurs Leadership Awards to distinguished men and women who have contributed significantly to their business or industry and to the wide good society. A High Level Panel will select the distinguished recipients of these Awards who shall be honoured. At the same time, Special Distinguished Leadership Awards will also be presented for Asia Pacific Business Leader of the Year, Asia Pacific Master Entrepreneur of the Year, Asia Pacific Technopreneur of the Year, Asia Pacific Property Entrepreneur of the Year, Asia Pacific Woman Entrepreneur of the Year and Asia Pacific Transformational CEO of the Year.
Link to event details and speakers: https://kasi.asia/events/2020-asia-economic-and-entrepreneurship-summit/
Link to register for PBEC Members wishing to attend: https://kasi.asia/event-registration/