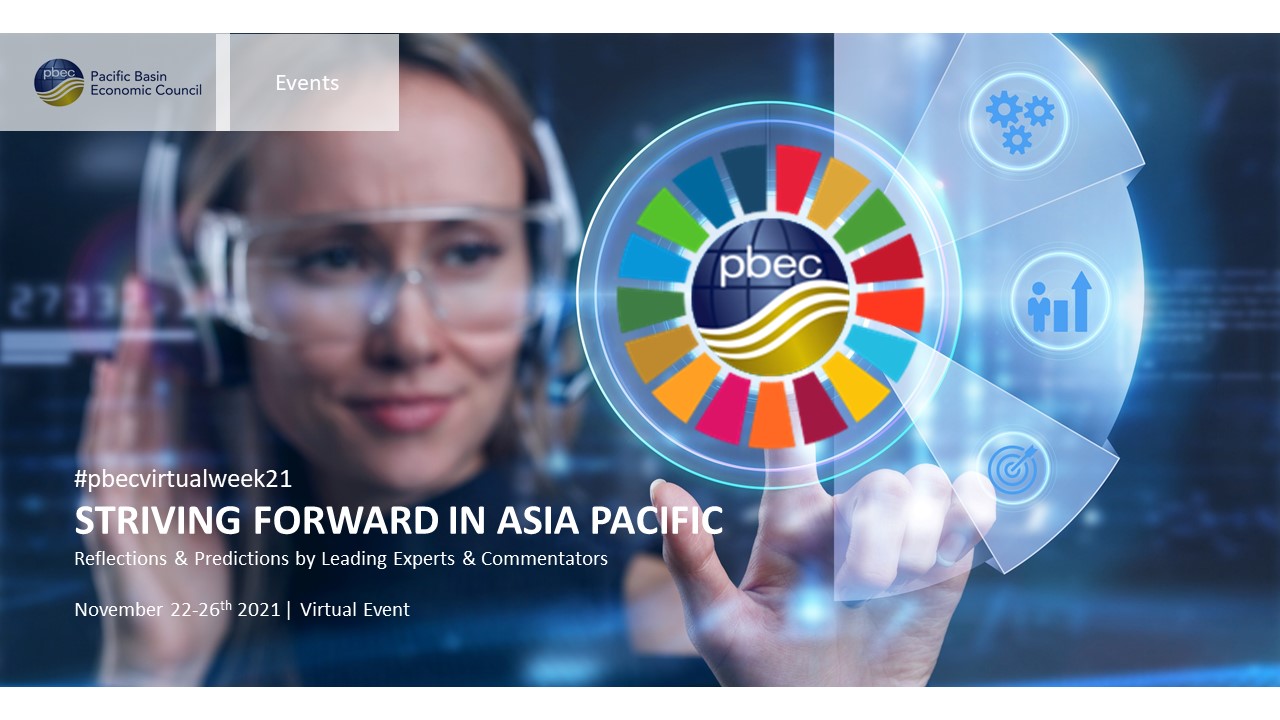 I am pleased to announce PBEC will host its inaugural Virtual Live Week – "Striving Forward in Asia Pacific" from November 22-26th 2021 ahead of this year's Horasis Asia Meeting. As preparations continue for our inaugural Virtual Week of dialogues, I hope many of you here will be able to join us and engage in the multiple live virtual dialogues being made available free of charge. More details will soon follow.
We are gathering PBEC's network of business leaders, entrepreneurs, academics, commentators, sustainability experts, heads of UN agencies and consulate generals together in a series of Live Dialogues throughout the week on topical areas such as reviewing the takeaways and objectives from recent global events such as APEC New Zealand 2021, G20 Italy, COP26 Glasgow and ASEAN Brunei 2021. We will also be discussing the future of several key sectors and areas of interest like; the digital economic transition, resilient supply chains, powering our lives (energy), trade finance, green investments, technology and innovation, education, digital trade, wealth management/family offices and even outer space.
Latest agenda v.4 can be viewed in attached file HERE
We have some wonderful headline speakers & chairs of the dialogues confirmed already from across the globe, and currently finalising the line-up before announcing. If you know of a great commentary speaker and influencer or wish to be considered yourself in joining one of the panels please let us know ASAP. Provide a short bio if possible.
Deadline is 30th September for all speaker confirmations.
Finally we are inviting any interest in supporting PBEC through online sponsorship of this event. It's a highly targeted audience event that is suitable to highlight your product and service. Feel free to contact pbec@pbec.org or michael.walsh@pbec.org directly.
Patron Sponsorship: – USD5,000 – An advertisement video or banner slot on the PBEC homepage for the months of November & December. Acknowledged in all event collateral as Title Sponsor, advert video played, must be under 90 seconds at the start of every live dialogue, thanked by the chairs of each dialogue session. Provided a copy of all attendees post event. Featured in PBEC e-Digest in October and November editions. Content of your choosing. Logo will be on the virtual backdrop of all dialogues sessions of the chair.
Standard Corporate Sponsorship: A video advertisement of 90 seconds or less shown at the start of each dialogue session to all participants and an acknowledgement in all the collateral as corporate sponsor, credits and thanked by chairs in opening remarks will cost USD1,250 per dialogue screening.
Starter Package: Logo displayed and hyperlink to the landing page of your choosing in all collateral. The cost of a banner link starts at as little as USD199.