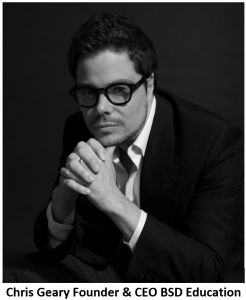 Chris is an education entrepreneur, investor and non-profit leader focused on developing and scaling initiatives and technologies that lower barriers and reduce inequalities in accessing the opportunities of the Future of Work. He founded BSD Education in 2013, an educational software and curriculum provider that enables teachers in schools to teach students digital skills during their lessons. BSD has grown to work with schools around the world and has teams located in Hong Kong, Thailand, Philippines, and the United States.
"With BSD Education we have focused on developing the systemic capacity for teachers to be able to deliver future ready skills for students. It concerns us that while there are already great talent shortages in the existing workforce, the capability to develop the talent for the future also does not yet exist within education so the issues will continue to grow. I see the next 5 years as the greatest opportunity for the outcomes of learning to sharpen and prioritise the access for students to the opportunities of the Future of Work. This means expanding access to the digital economy. I think that solutions that are focused on the intersection between the end of Education (pre-university study) and the world of work are going to be the most impactful and important in the coming 5 years." stated Chris Geary.
Chris is also the founder of the Fargo Foundation and Refugeek, a non-profit social enterprise focused on creative and technology education for at-risk and displaced communities. He is a Director of the Young Founders School, an educational non-profit for youth entrepreneurship education and from 2015-2021 was a School Councillor of Discovery College in Hong Kong and a member of the English Schools Foundation Council of Chairmen.
Chris has been recognised by the Enterprising Young Brits Awards (2007) the World Economic Forum (2011) and was nominated as one of the top 10 Outstanding Up and Coming Young People in Hong Kong (2018) by the Happy Life Education Foundation.
Chris is a regular speaker on educational policies, technologies and future developments with engagements including WEF Davos meeting, OUP China 60th Anniversary and Pacific Basin Economic Council. Chris attended Harrow School and went on to obtain an LLB (Hons) Law from the University of Bristol.
Join us in welcoming Chris to the PBEC family!