Date & Location: 28 AUGUST 2020 (Fri) Hotel Melia Hanoi, Vietnam.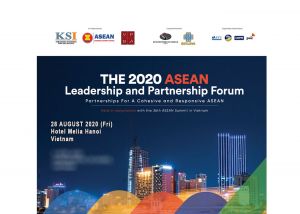 The ASEAN Leadership and Partnership Forum is a leading Forum that bring together Leaders from Government, Business, Think Tanks and Civil Society to discuss and evaluate the strategic challenges facing ASEAN and it's immense opportunities as one of the world's most robust regions with a combined GDP of USD 2.3 trillion (making it collectively the world's 6th largest economy) with a population of 620 million.
As ASEAN moves forward towards 2025 it faces numerous challenges with a changing global economy, yet ASEAN abounds with opportunities particularly in the Digital Economy, enhanced connectivity and growing intra ASEAN trade and investment.
PBEC will have 5 complimentary delegate passes on a first come first serve basis and a members discount of 20% on the delegate fee for any additional tickets.
Michael Walsh CEO of PBEC will be speaking on a panel Digital ASEAN – Digitalisation and Transformation What are new challenges and opportunities in the Digital Economy? How can ASEAN promote digital growth and benefit from artificial and intelligence and prepare for the 4th Industrial Revolution? What are the trends and key issues in digitalisation? In Session 3 at 2pm local time.
Tan Sri Michael Yeoh Chairman, Organising Committee and President, Kingsley Strategic Institute for Asia Pacific (KSI)
Register here: https://www.eventbrite.com/e/the-2020-asean-leadership-and-partnership-forum-tickets-105929660466