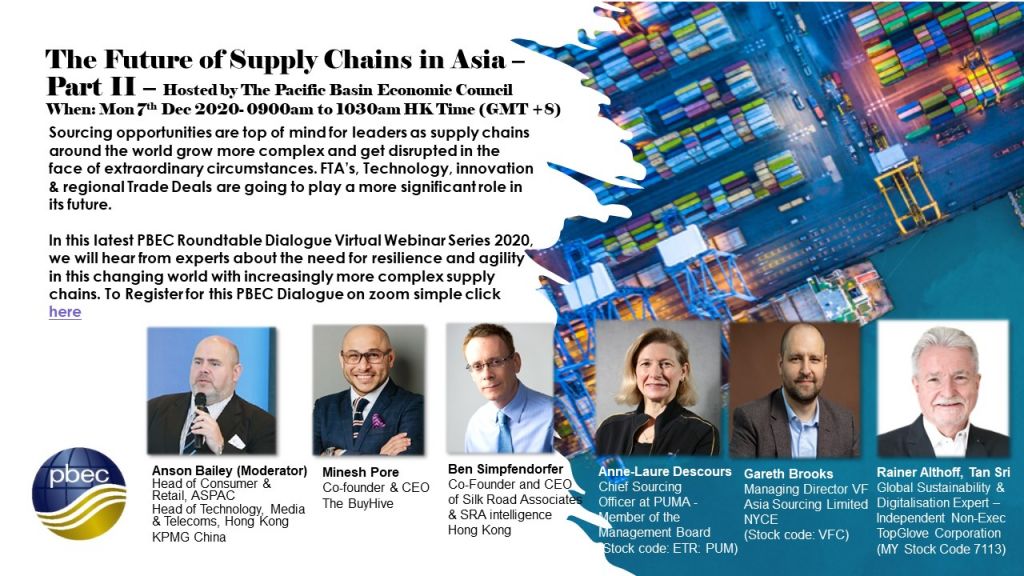 Moderated by PBEC Board of Director & Head of Consumer & Retail AsPAC Anson Bailey of KPMG China.
When: Mon 7th Dec 0900L to 1030L HK Time on Zoom.
Joining Anson are an esteemed group of Asian leaders from their own respective field of expertise. Namely Minesh Pore Co-Founder & CEO of Buyhive a HK start-up sourcing platform, Ben Simpfendorfer Co-Founder & CEO Silk Road Associates which provides data driven advice to Fortune 500 companies, Anne-Laure Descours Chief Sourcing Officer & Member of the Management Board at PUMA one of the world's leading sports brands, Gareth Brooks Managing Director of VF Asia Sourcing Limited which engages in distribution, retailing and marketing of lifestyle apparel, footwear and accessories and Tan Sri Althoff Rainer Independent Non-Executive Director of TopGlove Corporation a global leading manufacturer of disposable rubber gloves and the 2nd most valuable company in Malaysia.
Click here to book your seat and attendance.