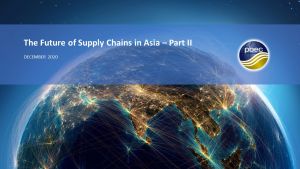 PBEC hosted business leaders and economists from Hong Kong & Malaysia for the final episode of PBEC dialogue series 2020 in December on the "Future of Supply Chains in Asia".
This concluded a series of dialogues around the subject of supply chains in the APAC region. In this episode we get to hear from Anson Bailey of KPMG who provides a wonderful presentation on the Future of Sourcing: 2021 and Beyond. A report recently published by KPMG China in conjunction with HKTDC and InvestHK alongside side such speakers as Ben Simpfendorfer of Silk Road Associates, Ann-Laure Descours of Puma, Minesh Pore of The Buyhive and Gareth Brooks of VF Asia.
We also hear from Rainer Althoff of Top Glove and Total Sports Asia based in Malaysia a veteran on supply chains and communications, who provides us with some fascinating insights and phrases to take away with us.
YouTube video: