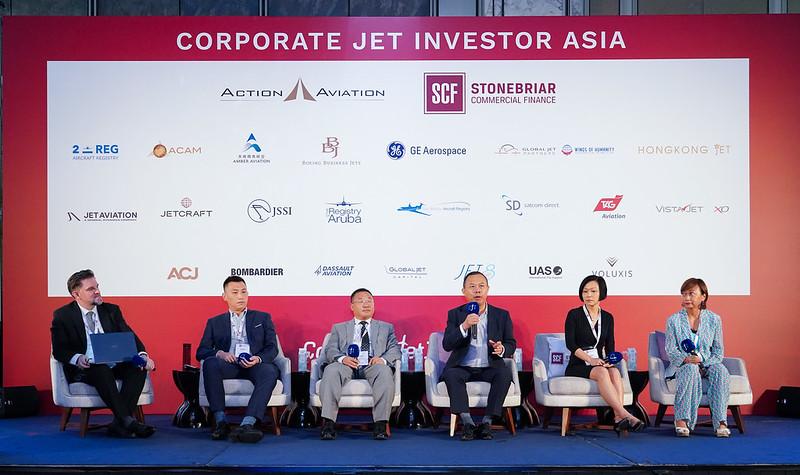 PBEC's CEO Michael Walsh moderated and spoke on a Chinese economy focused panel, in relation to China's luxury goods sector, at the recent Corporate Jet Investor Conference, held in the Shangri-La Hotel on 19-20th September 2023. His fellow panellists included leaders from MNC & manufacturer Textron Aviation USA in China, to a leading private aircraft operator and management firm in China called Deerjet. There were also founders and entrepreneurs from China in aircraft sales, charter and finance segments, providing insights & opinions on the state of the Chinese economy. Challenges and opportunities were highlighted to an industry audience of over 300 delegates from across Asia/USA and Middle East. Diana Chou a fellow PBEC Board of Director and who also founded Dragon General Aviation Group spoke about some of the more recent retailer purchasing trends and how foreign brands have struggled to keep up with the speed of change being observed due in part to the geopolitical and ongoing supply chain divestment pressures.
China leads the way on EV- Electric Vehicle production and have some of the leading firms in the production of e-VTOL's (Electric Vertical Take-off and Landing Vehicles). The speed at which society in China has become cashless and digitally savvy over the past 5 years in particular is simply breathtaking. Foreign firm luxury brands have invested in new shop openings across the country even during Covid and the current economic woes are a concern. However domestic luxury brands are fairing much better and have managed to build up a loyalty fanbase over the same period.
It will be interesting to see how some of these Chinese home-grown brands position themselves in overseas markets and some are being forced to accelerate their international strategy earlier than anticipated.
While high ticket purchases such as private jets and yachts have been hit in recent years due to the lockdowns and policies, there is no doubt there are more UHNWI's in 2023 then there were pre-covid and it continues to grow year on year. The current caution is partly due to central Govt policies that felt were targeted at this sector to some degree. As the property sector crisis works its way through, it is highly anticipated that consumers and leading Chinese brand owners will seek to purchase such goods once again and in greater number in the years to come.