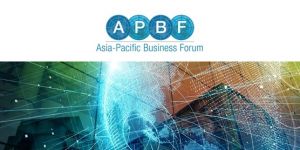 Dear PBEC Members,
We would like to inform you of the upcoming the Asia Pacific Business Forum 2020. To be held virtually on 30 October 2020, from 9:00 to 17:00 Bangkok time, the theme of the APBF this year is "The Future of Global Value Chains and Implications for SMEs." The APBF is organized by the United Nations Economic and Social Commission for Asia and the Pacific (ESCAP) together with the ESCAP Sustainable Business Network.
Globalization has enabled the splitting of production across multiple localities, with scope for improved productivity and job creation. The benefits of this shift, however, have not been shared equally. The backlash against the remarkable shift in trade patterns resulting from increasingly dispersed global value chains is now affecting trade relations between the largest global economies, and in turn affecting much of the globe. With rising global trade tensions and a global pandemic ravaging the world economy, we invite you to join us on 30 October to discuss the implications, challenges and opportunities arising from these changes, for the future of global value chains, and what this means for small and medium enterprises across the Asia-Pacific region.
Some of the featured speakers include.
Ms. Armida Salsiah Alisjahbana, Executive Secretary of ESCAP
H.E. Mr. Jurin Laksanawisit, Deputy Prime Minister and Minister of Commerce, Royal Government of Thailand (tbc)
Mr. Kalin Sarasin, Chairman of the Thai Chamber of Commerce and Board of Trade, Thailand
Mr. John W.H. Denton AO, Secretary-General, International Chamber of Commerce
Ms. Dian Siswarini, President Director, XL Axiata, Indonesia
Ms. Sanda Ojiambo, Executive Director, United Nations Global Compact Office.
Mr. Narayana Murthy, Founder of Infosys
All sessions for this year's APBF will be held online. Please visit www.apbf2020.com to view the programme, information about the speakers, and register to attend. For any questions on the programme or ESCAP's work, please contact Marc Proksch (proksch.unescap@un.org), Chief of Investment and Enterprise Development in ESCAP. Online facilitation of the conference will be provided by InsightPact: for technical queries about registration and participation, please contact Irene Laochaisri (irene@insightpact.com).
Click here to register now.