Kuala Lumpur, Malaysia, 25 July 2020
Issued by the APEC Business Advisory Council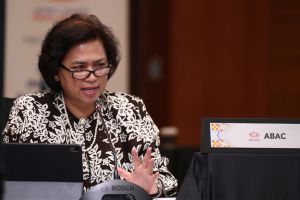 Asia-Pacific business leaders from the APEC Business Advisory Council (ABAC), meeting virtually this week, called on the region's Trade Ministers to take the lead in a credible, relevant and strengthened World Trade Organisation (WTO) in the face of the COVID-19 pandemic.
"Globally, we face significant health and economic challenges. Fundamentally trade can and must be at the centre of tackling both the immediate crisis and of laying the groundwork for a return to growth. The WTO is core to that effort," said ABAC Chair Dato' Rohana Tan Sri Mahmood of Malaysia.
Dato Rohana explained that ABAC had issued a statement of support for a reformed WTO ahead of the meeting of APEC Ministers Responsible for Trade (MRT) taking place on 25 July. She said that ABAC had been deeply concerned at the levels of human suffering and severe economic contraction caused by the pandemic.
"Our message to Ministers is that global problems demand global solutions – and the WTO's multilateral rules-based system must be at the heart of those solutions," said Dato Rohana. "We are calling on APEC economies to lead a process of reform in the WTO to ensure that trade rules remain fit-for-purpose."
She said that we need to liberalise trade in essential medical supplies and facilitate the movement of essential workers, so that for this and any future pandemics, those critical products and services can get to where they are needed most. Likewise, APEC economies should reaffirm their commitment to well- functioning agriculture markets, so that we do not add a food security crisis to the disruption of the pandemic.
"We also need to ensure that the WTO's rules remain relevant and credible. It is imperative that we get the WTO's dispute settlement system fully functioning again by appointing new members to the Appellate Body. We need more transparency around what economies are doing on trade. We must complete the unfinished business of the Doha Round, including by eliminating fisheries subsidies, making meaningful cuts to trade-distorting domestic support in agriculture and helping services and investment to work better," she added.
Dato Rohana said that just as importantly, the WTO needed to stay responsive to modern business and social concerns. There is a need to review the rules in other areas to ensure that they are doing the job. The rules must also be updated for the digital age and support aspirations for sustainable and inclusive growth. That means substantive outcomes on e-commerce and a permanent moratorium on Customs duties on electronic transmission, tools to transition to a low-carbon economy by eliminating inefficient fossil fuel subsidies, and better ways for women and small businesses to succeed in trade.