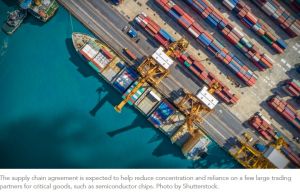 Facing global supply chain challenges, the Indo-Pacific Economic Framework promotes economic cooperation among 14 economies, strengthening supply chain resilience, fostering innovation, and driving growth
By: Cyn-Young Park- Director for Regional Cooperation and Integration, Economic Research and Regional Cooperation Department at the Asian Development Bank
Supply chains – the vital global connections between the making of products and their delivery to customers worldwide – have been tested in recent years. They are increasingly vulnerable due to a lack of coordinated oversight and information sharing, inadequate investment for innovation and sustainability, increasing concentration on large trading partners, and a lack of mechanisms to manage crises.
Global supply chains promote investment and technology transfers, create jobs, and spread prosperity. But a series of shocks, including the COVID-19 pandemic, the Russian invasion of Ukraine and the continued deterioration of multilateral trade relations, have damaged the reliability of global supply chains. The next crisis can manifest differently, but the need to ensure the flow of critical goods such as food, energy, and medicines and avoid major supply chain disruptions will be the same.
One initiative that will bring a basket of solutions to the supply chain problems is the Indo-Pacific Economic Framework, a multilateral effort to build economic cooperation and integration for prosperity among the 14 countries of the Asia and Pacific region.
Read More HERE