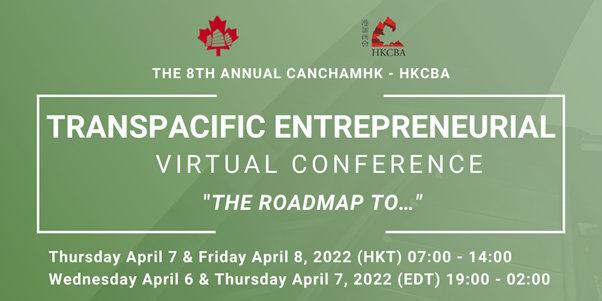 Despite recent disruptions, the need to generate sustainable growth and expansion still remains.
The 8th Transpacific Entrepreneurial conference will discuss the current opportunities for companies looking to expand into Canada and Greater China as well as the impact and possibilities the latest Greater Bay Area initiatives would bring to Hong Kong. It will also show "the roadmaps" to using Hong Kong as a platform for entrepreneurial ventures "from seed to exit."
The 2022 conference will encompass virtual panels in order to accommodate audiences from Hong Kong, Asia Pacific and Canada.
PBEC has 20 complimentary virtual seats available on a first come first serve basis. Please email michael.walsh@pbec.org and copy in david.armitage@velocity-solutions.com
Thursday April 7 & Friday April 8, 2022 (07:00 -14:00 HKT)
Wednesday April 6 & Thursday April 7, 2022 (19:00 – 02:00 EDT)
NON-MEMBERS CAN REGISTER BY CLICKING HERE
SCHEDULE
| | |
| --- | --- |
| THURSDAY APRIL 7 (HKT) | DAY 1 PROGRAM – The Roadmap To… |
| 7:00 AM – 8:00 AM | Networking Session with Panelists |
| 8:00 AM – 9:00 AM | Session 1 – Canadian Success in Hong Kong |
| 9:00 AM – 9:30 AM | Session 2 – Investment Opportunities and Strategies to Success in Alberta |
| 9:30 AM – 10:30 AM | Session 3 – Opportunities for Growth and Expansion into the Canadian Markets, Hong Kong and Asia |
| 10:30 AM – 11:30 AM | Session 4 – Investing in Hong Kong: A Gateway to Growth and Expansion Opportunities in Greater China & Asia |
| 11:30 AM – 12:30 PM | Session 5 – Investing in New Ventures |
| 12:30 PM – 1:00 PM | Session 6 – A Fireside Chat: Dave Armitage, Velocity Solutions Group |
| 1:00 PM – 2:00 PM | Networking Session with Panelists |
| | |
| --- | --- |
| FRIDAY APRIL 8 (HKT) | DAY 2 PROGRAM – The Roadmap To… |
| 7:00 AM – 8:00 AM | Networking Session with Panelists |
| 8:00 AM – 8:30 AM | Session 7 – A Fireside Chat: Jeff Nankivell, Asia Pacific Foundation of Canada |
| 8:30 AM – 9:30 AM | Session 8 – GBA Incentives, Strategies and Experience Sharing |
| 9:30 AM – 10:30 AM | Session 9 – A Green Future and Sustainable Opportunities |
| 10:30 AM – 11:30 AM | Session 10 – A Green Future and Sustainable Opportunities in Property Development |
| 11:30 AM – 12:00 PM | Session 11 – A Fireside Chat: Arnold Leung, Appnovation |
| 12:00 PM – 1:00 PM | Networking Session with Panelists |
For more event details, click here:
https://www.cancham.org/8th-transpacific-entrepreneurial-conference/