Striving Forward in Asia Pacific

Reflections and Predictions by Leading Experts & Commentators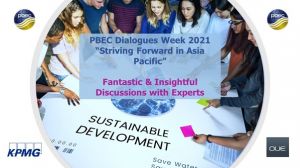 The Pacific Basin Economic Council (PBEC – Est. since 1967) the International Think Tank for business leaders hosted experts, business leaders, academics, economists & NGOs to assess the key takeaways from the recent global trade and climate summits like G20, COP26 & the APEC Summit and provided their latest perspectives on a range of key topics.
The objective and purpose of this high-level PBEC dialogue series of discussions over the week 22-26th November 2021 was to produce concrete future focal areas of interest for APAC policymakers from a business perspective. Mission accomplished!
These will be synopsised and shared in the form of an official PBEC white paper submission to the APEC Secretariat and APEC Chair prior to the Senior Officials Meeting 1 in Thailand Q1 2022.
PBEC's value proposition in these important dialogue discussions, lies in having historic connections to the regional policymakers as the progenitor to APEC and as an Institutional and Standing Committee Member of (PECC) Pacific Economic Co-Operation Council. We also support the APEC Business Advisory Council representatives across the region. We value our long-standing relationships and encourage collaborative efforts to continually move the needle amongst all stakeholders and reach a consensus through regular dialogue.
We therefore encourage you to view and review for yourself and leave your own comments under the videos.
Simply click on any of the videos to view now.
DIALOGUE 1:- Opening Remarks & Keynote Presentations:
THE KEY TAKEAWAYS FOR ASIAN BUSINESS FROM G20, COP26 & APEC NZ 2021 SUMMITS
Andrew Weir MA, FCA, FHKSA, FIOD, JP, MBE Regional Senior Partner of KPMG in Hong Kong and Vice Chairman of KPMG China, HKSAR Government appointed Director of the
Financial Services Development Council (FSDC) & Chairman of PBEC
Dr. Lee George Lam BBS, Chairman of Cyberport HK, Chair of UNESCAP – ESBN, member of the Hong Kong Special Administrative Region Government's Committee on Innovation, Technology and Re-Industrialization & Vice Chairman of PBEC
Dr Moses CHENG Mo-chi, Dr Moses CHENG Mo-chi, GBM, GBS, JP, OBE Chairman Insurance Authority, Founder of The Hong Kong Institute of Directors & Vice Chairman of PBEC
Keynote Addresses
Natalie Chung Sum Yue, environmentalist and social entrepreneur
Keynote Address
Rob Davenport Founder & Director at TaKe Foundation
We kicked off the event with our Opening Plenary Session & Dialogue 1 which includes: 00:00–00:18 Mins: Opening Remarks from PBEC Chairman Andrew Weir, Vice Chairmen Dr. Moses Cheng and Dr. George Lam. 00:19–00:35 Followed by two keynote speeches: Award-winning Youth Leader and Climate advocate Natalie Chung of V'Air HK and Founder/CEO of TaKe Foundation giving us an update from COP26, followed by Rob Davenport providing us with a glimpse of his successful Bamboo for social good project and its societal impact in the HK community.
CHAIR:
Andrew Weir MA, FCA, FHKSA, FIOD, MBE, JP Chairman of PBEC (Hong Kong SAR, China)
SPEAKERS:
Mozaharul Alam  – UNEP Regional Coordinator, Climate Change Programme, UN Environment. (Bangkok, Thailand)
William 'Bill' Klein Former Acting Deputy Chief of Mission, U.S. Embassy (Beijing) & Former Political Section Chief, American Institute in Taiwan (Washington DC, USA)
Stephen Jacobi Executive Director 2021 ABAC – APEC Business Advisory Council (Auckland, New Zealand)
Dr. Narongchai Akrasanee Chair of TNPECC & Khon Kaen University Council Member (Bangkok, Thailand)
Fast forward to 0:42 Mins to tune into Dialogue Session 1 our Chairman Andrew Weir continues as moderator of a highly regarded panel from New Zealand in Stephen Jacobi representing Asia Pacific Business Council as Executive Director for APEC NZ 2021. We also welcomed William 'Bill' Klein Former Acting Deputy Chief of Mission U.S. Embassy (Beijing)& Former Political Section Chief, American Institute in Taiwan. Alongside Bill is Mozahurul Alam Regional Co-ordinator at UNEP – United Nations Environmental Program and of their Climate Change Program UN Environment, and last but not least Dr. Narongchai Akrasanee Chair of Thailand Pacific Economic Co-operation Council (PECC) and on the APEC 2022 Thailand organizing committee. He is also a council member of Khon Kaen University.
Timeline: 00:37–00:45 Andrew Weir – setting out the topic for discussion and providing his own observations.
00:46 onwards its Mozaharul Alam providing the emissions gap report findings and update from COP26. Then William Klein provided a US/China Geopolitical update and giving us some food for thought forward-thinking. Followed by Stephen Jacobi on the updates from New Zealand year hosting APEC and outcomes as well as looking ahead to the WTO summit. Then Dr. Narongchai finished the first round of talks with his thoughts and what the focus of attention there will be for ABAC and APEC in the coming 12 months.
Andrew then breaks it out to a dialogue discussion from 01:16 to 01:32. Lots to digest and themes shared. But very enjoyable.
DIALOGUE 2:–THE FUTURE OF APAC LIVING AND POWERING IT
CHAIR
Cynthia Chow Associate Director, ASPAC Infrastructure Sector KPMG China (Hong Kong SAR, China)
SPEAKERS
Sally Sudworth Global Head of Sustainability & Climate Change Mott McDonald & Founder of the Climate Emergency Group at the Women's Engineering Society (U.K.)
Andrew Green, Senior Director, Integrated Digital Solutions, Project and Development Services, JLL
Brandon Ng Co-founder CEO Ampd Energy (Hong Kong, SAR, China)
Eli Konvitz Director Planning & Urban Design Asia Pacific at Atkins (Hong Kong SAR, China)
Steven Bartholomeusz Head of Public Affairs, APAC at Neste (Singapore)
We shifted our focus in this dialogue onto the Future of Smart Living – and how we are going to power it. We have seen the increased use of fossil fuels despite all the discussions and statements coming from leaders in recent times to tackle emissions. So, there is an emergency we need to get on with addressing despite the talking. We discuss the outcomes of COP26, but take a look at cities, even a brief history lesson from Eli Konvitz and hear from the panel experts on the ongoing challenges and opportunities that we face in reducing inhabitants' pollution levels. We also hear from Neste on how they are tackling the whole transportation sector in powering that going forward and the need for more linked-up regulation in the region. Listen to an enthralling discussion on where we are as well as some forward-thinking predictions.
DIALOGUE 3:- THE ROLE OF THE ASIAN FAMILY OFFICE DURING AND POST COVID CRISIS
CHAIR
Miguel Aboitiz -Director of Aboitiz & Co, Aboitiz Power, DDLS & AB Capital securities (Manila, Philippines)
SPEAKERS
Crystal He DL Holdings Group Partner & CEO of DL Family Office (Hong Kong SAR, China)
Anson Chan Chairman & CEO Bond Group of Companies (Hong Kong SAR, China)
Vincent H.S. Lo GBM, GBS Chairman Shui On Group (Hong Kong SAR, China)
Dixon Wong, Head of Financial Services and Global Head of Family Office from Invest Hong Kong, China
Anthony Chan CEO Isola Capital Group (Hong Kong SAR, China)
Lee Wong, Head of Family Services, Asia at Lombard Odier
We moved onto the area of Asian Family Offices and the role they play in Society. There are already anywhere between 2000-3000 such Family Offices now in Greater China and this figure is expected to grow to as much as 100,000 over the next 20 years. We gathered a top-class line-up of experts some of whom have their own or in the process of setting one up, whilst we also hear from service providers in the space and investment advisers. All led by a well-known member of the Aboitiz family in the Philippines. Listen back to learn the fundamentals behind why Family offices play an important role and how they are getting more involved and influential in society as well. This was one of our most popular attended sessions. Vincent Lo provides a personal experience and to why investing in a proper Family Office Governance structure is so important.
DIALOGUE 4:- THE FUTURE POTENTIAL OF THE BLUE ECONOMY
Chair
Dr. Parag Agarwal Founder & CEO of Janajal- Safe Water for All (UAE, India & Singapore)
Speakers:
Max Song Founder & CEO Carbonbase (Hong Kong SAR, China)
Sam Farrands Head of Projects King & Wood Mallesons (Hong Kong SAR, China)
Pierre Rousseau Strategic Advisor Sustainable Business, BNP Paribas (Lisbon, Portugal)
An Asian tilted lens looking at the Blue Economy. Some wonderful presentations on innovative ways to reach net-zero emissions when it comes to Carbon capture, trading carbon and offsets required in the transitional period. We also discuss the importance of the ocean as a source for further commercialisation in a sustainable and ecological manner. The revolution that is Good Seaweed and its usable properties and more fundamentally how we can encourage more investment & participation from the private sector to fund the new infrastructure required such as ports, off-shore platforms etc… to extract these resources, we are not talking about fossil fuels or drilling. We learn about the tool and mechanism that is PPP – Private Public Partnerships to help public utilities engage and deploy capital as well as discuss the water scarcity issue and inefficient existing infrastructure and its management. Listen to a eye-opening session from leading experts and entrepreneurs in their fields of expertise. We personally really liked this topic and again one of our most popular of the week.
DIALOGUE 5:-WHY ARE RCEP & CPTPP TRADE AGREEMENTS QUICKLY BECOMING A MUST JOIN CLUB IN APAC?
CHAIR
Siddharth Poddar Chief Editor & MD at Stonebench & Unravel (Singapore)
SPEAKERS
Dr. Yu Hong Senior Research Fellow, East Asian Institute (Singapore)
Pamela Mar Executive Vice President, Knowledge and Applications, Fung Academy (Hong Kong, China)
Professor Evodio Kaltenecker Assistant Professor of International Business Technology of Monterray (Mexico)
Robert Koepp Founder and CEO of Geoeconomix (California, USA)
In this session we discuss the two largest regional trade agreements in RCEP -Regional Comprehensive Economic Partnership and CPTPP -Comprehensive and Progressive Agreement for Trans-Pacific Partnership. We get a scene-setting explanation from moderator Siddharth Poddar Co-Founder of Stonebench publishers. Followed by a wonderful perspective from Professor Evodio Kaltenecker from Technology de Monterrey University in Mexico, who shares his insights into two of Latin America's biggest economies, namely Mexico and Brazil in relation to trade exports and imports and their relationships with US and China. This is followed by Rob Koepp Founder of Geoeconomix, a Think Tank who is based now in California but previously was in Asia for several decades who provides a business lens update on US/China relations and his thoughts on geopolitical risk. We then hear from Dr. Yu Hong in Singapore of East Asian Policy at the East Asia Institute in National University of Singapore. Last but by no means least, Pamela Mar EVP at Fung Group and its Business Intelligence Unit join us to share her views on Sustainable and Trade Finance. She references the recent Global Trade Finance report jointly published ahead of the WTO meeting with McKinsey and ICC – International Chamber of Commerce. Its, a very insightful dialogue, it flows into a roundtable discussion format and I am sure you will enjoy listening to what they have to say on Trade Finance being a force for good, that can help economic recovery as well as the climate emergency to reach net zero.
DIALOGUE 6:- TECHNOLOGY & INNOVATION IN EDUCATION – ACCESS & AFFORDABILITY
CHAIR
Steven Irvine CEO & Editor of Week in China (Hong Kong, SAR, China)
SPEAKERS
David Brown Director Executive Education, Imperial College Business School (London, U.K.)
Christina Schönleber, Senior Director, Policy and Research Programs at the APRU -Association of Pacific Rim Universities (Hong Kong, SAR, China)
Mariana Kou Chairperson and CEO of CTEH (1620:HK) (Hong Kong SAR, China)
Chris Geary Co-Founder & CEO BSD Education (Hong Kong SAR, China)
Brian O'Reilly Chair of the Education and Training Working Group of the Vietnam Business Forum (VBF) (Ho Chi Minh City, Vietnam)
In this session we focused on the Education sector across Asia. We gathered experts from Vietnam, Hong Kong, U.K., Greater China and Hong Kong SAR. A fascinated discussion ensued with shared insights from several different aspects on the further education sector and secondary school level, all moderated beautifully by journalist Steven Irvine Founder, CEO & Editor of 'Week in China'. Listen to hear about EdTech sectors latest opportunities, updates from China Mainland' recent regulatory changes affecting the sector and the direction being taken by leading International business schools with regards digital transformation and adaptive programs. We hear calls for annual assessment reviews and the latest on commercialization and decentralization of the sector. In conclusion some interesting and welcomed shared future outlooks for the sector to take note of.
DIALOGUE 7:- RESILIENT SUPPLY CHAINS IN APAC – WHAT DOES THAT MEAN?
CHAIR
Ben Simpfendorfer Partner at Oliver Wyman Hong Kong & PBEC BoD (Hong Kong, SAR, China)
SPEAKERS
Christine Loh Kung-wai, SBS, OBE, JP, Chief Development Strategist, The Hong Kong University of Science and Technology (Hong Kong, SAR, China)
Asif Ibrahim  Director, Bangladesh Garments Manufacturers and Exporters Association (BGMEA) (Chittagong, Bangladesh)
Chris Clague Asia Editorial Lead, Trade & Globalisation at the EIU – Economist Intelligence Unit (Tokyo, Japan)
Anson Bailey Head of Consumer & Retail AsPAC, Head of Technology KPMG China, Director of PBEC (Hong Kong SAR, China)
Amita Maheshwari Asia Head of Supply Chain Development at A.P. Moller – Maersk (Hong Kong SAR, China)
In this particular session the focus turned to Global Supply Chains. Alot of headline news about Supply Chains being broken, not working due to the ongoing pandemic and overreliance on China for manufactured goods and services. But apart from a few blips at the beginning with lack of PPE equipment, did anyone really suffer from the non-availability of essential goods in the developed world. Not really right! Of course, pricing, supply v demand came under acute pressure but they still functioned. A way was found to accommodate the movement of trade. So, what is really driving the supply chain dilemma, political, vested interests or the system does require urgent reforms, what are they? We also got some further insights from KPMG's Anson Bailey short presentation on supply chains and a recent survey conducted in the AsPAC region with multiple stakeholders. The viability and purpose of the WTO -World Trade Organisation was also discussed, with the upcoming WTO MC12 meeting which at time of print was announced to be cancelled for a future date due to the new covid variant Omicron and subsequent renewed travel restrictions being imposed across Europe. A lively debate and one I recommend watching.
DIALOGUE 8:- FINANCIAL SERVICES & INVESTMENT ENVIRONMENT – POWERING THE APAC DIGITAL TRANSFORMATION
CHAIR
Dr. Jochen Biedermann Managing Director of World Alliance IFC's (Frankfurt, Germany)
SPEAKERS
Farah Jaafar Chief Executive Officer, Labuan International Business and Financial Centre (Labuan, East Malaysia)
Michael Kokalari Chief Economist Vina Capital (Ho Chi Minh City, Vietnam)
Julien Martin Managing Director, Head of Emerging Business Development, Markets, Hong Kong Exchanges and Clearing Limited & General Manager, Bond Connect Company Limited (Hong Kong SAR, China)
This session focused on Financing the digital transformation. We heard from IFC – International Financial centers in powering the digital transition across Asian economies. Moderated by Dr. Jochen Biedermann Managing Director of World Alliance IFC's (Frankfurt, Germany) who led the discussion with some cool insightful slides to set the scene. A fantastic discussion overall around the funding sources required for the transition to digital from a regulators and PE Venture Capital Fund Manager perspectives from Malaysia, Vietnam and Greater China but also with an outward regional outlook. Some great tips on sustainable and inclusive finance and looking ahead at key areas for investors to think about towards the end of the session.
DIALOGUE 9:- ASIAN CENTRIC SUSTAINABLE FINANCE IN MITIGATING CLIMATE
CHAIR
Michael Walsh CEO PBEC- Pacific Basin Economic Council International Secretariat (Hong Kong, SAR, China)
SPEAKERS
King Au – Executive Director Financial Services Development Council Hong Kong (Government appointment) & The University of Hong Kong Adjunct Professor, Faculty of Finance (Hong Kong, SAR, China)
Kim-See Lim– Regional Director East Asia and the Pacific IFC – International Finance Corporation – the private sector investment arm of the World Bank (APAC) (Hong Kong SAR, China)
Satoshi Ikeda – Chief Sustainable Officer FSA- Financial Services Agency of Japan (Tokyo, Japan)
Sung-hyun Park – Chief Strategy & Sustainability Officer Shinhan Financial Group & UNEP-FI Global Steering Committee appointed 2021-23 for Asia Pacific Banking (Seoul, South Korea)
Steven Beck Head of Trade and Supply Chain Finance, Asian Development Bank (Manila, Philippines)
This session is strictly paid content and to access you are required to purchase or have in your possession a Horasis Day Pass. A fee is applicable to access all the content recorded.
Click here to access the paid content with a Day-Pass: Attendee – Asian Centric Sustainable Finance in Mitigating Climate Change (runtheworld.today)

PBEC was an official co-organiser of Horasis Asia Meeting 2021 and put together a strong dialogue panel line-up on "Sustainable Finance mitigating climate change." We heard from senior leaders from the following organisations IFC, ADB, UNEP-FI, Japan's FSA and Hong Kong's Government appointed FSDC which was a fascinating dialogue to be a part of.
We thank all our expert speakers and supporting organisations as well as our official sponsors KPMG China and OUE Ltd Singapore for this annual summit event.
Disclaimer: All advice or tips shared in any of these dialogue sessions are explicitly not PBEC recommendations or endorsements. PBEC is not a broker or licensed trader or financial advisor. Therefore, all advice shared here are personal opinions of the individuals and do not represent necessarily the businesses they represent or work for. You should always carry out your own due diligence before making an investment decision,