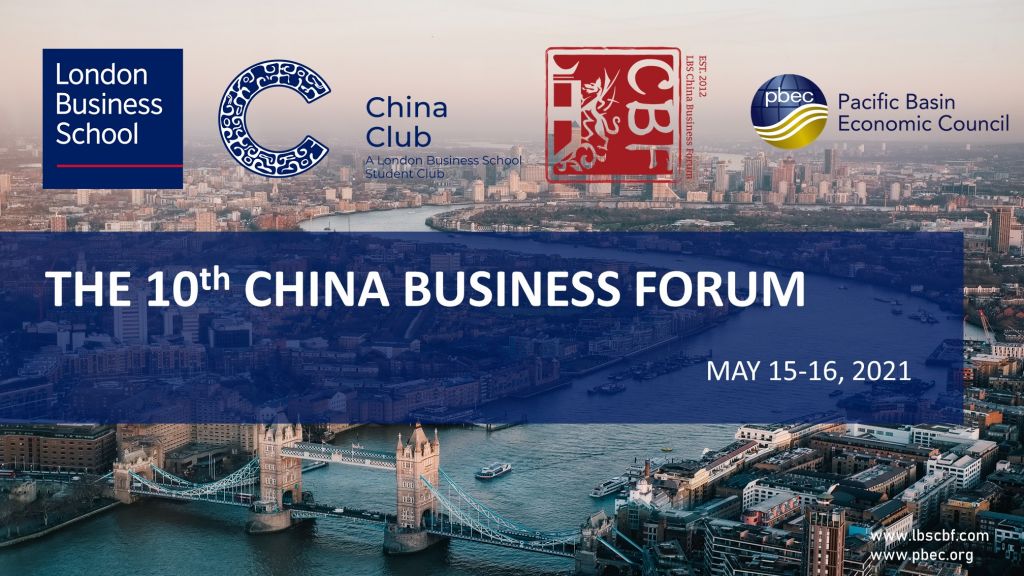 The Future is Everywhere – Adapt and Achieve
The 10th China Business Forum held by the London Business School

Date: Sat 15th & Sun 16th May 2021 – Virtual Forum
Forum Timing over the two days: BST 9:00 – 15:00  / Beijing Time: 16:00 – 22:00
 Event Description:
The London Business School students running this year's 'China Business Forum' are once again providing the platform to share their own unique response to world events that have been influencing the global business community.
The Pacific Basin Economic Council (PBEC) is delighted to be this year's official strategic partner supporting the "China Business Forum" hosted by the "London Business School", now in its 10th year and we cordially invite all our members, friends, followers and partners to register & attend this event scheduled on Sat 15th & Sun 16th May 2021.
The forum will provide delegates with virtual access to global thought leaders, academics, and future young entrepreneurs. 2020 has been a year of dramatic change around the world & PBEC is excited to be part of such a rich and diverse body of thoughts and opinions across a wide range of subjects, from economics to the ever-changing world of technology and innovation. It promises to be a wonderful programme of debate and discussion on the future of business relations with China through a UK & EU lens.
Please find OUR official invitation to join from PBEC Chairman Andrew Weir MBE. To claim your complimentary pass, please click here to register: https://lnkd.in/gpeERqR
Further details on the event rundown and confirmed speakers can be found here.