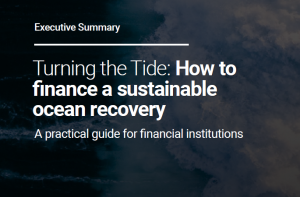 The ocean covers the majority of our planet's surface, holding 97% of all water and 80% of all life forms. Major ocean sectors such as tourism, shipping, fishing, aquaculture and marine renewable energy collectively contribute to a 'blue' economy, estimated by the Organisation for Economic Co-operation and Development (OECD) at a global gross value added of USD 1.5trn in 2010. This blue economy has been projected to increase to USD 3trn by 2030, with some ocean industries set to grow faster than the global economy.
However, ocean health is under threat, faced with the triple crises of pollution, nature loss and climate change, leaving industries, businesses and livelihoods exposed. With existing financing still largely directed towards unsustainable sectors and activities, it is critical that all sectors of the blue economy are rapidly transitioned towards sustainable pathways.
Banks, insurers and investors have a major role to play in financing this transition to a sustainable blue economy, helping to rebuild ocean prosperity and restore biodiversity to the ocean. Through their lending, underwriting and investment activities, as well as their client relationships, financial institutions have a major impact on ocean health and hold the power to accelerate and mainstream the sustainable transformation of ocean-linked industries.