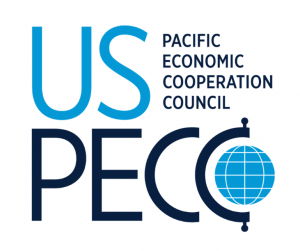 US-PECC would like to invite Pacific Basin Economic Council Members to its annual Policy Forum event. This year's theme is Strengthening Trade and Economic Ties in the Indo-Pacific.
In recent years, leading economies in the Indo-Pacific concluded two major plurilateral trade agreements that exclude the United States. The Biden administration has expressed a desire to reverse this trend by re-engaging with multilateral institutions and bolstering economic engagement in this critical region. However, the domestic political environment makes neither U.S. accession to an existing trade agreement nor the launch of new talks likely in the near term. This two-part event will feature speakers from business, government and academia who will discuss the administration's trade and economic priorities in the Indo-Pacific and ways the U.S. can achieve its objectives when the usual tools for writing the rules of trade in the region are not at hand.
The first session will focus on digital governance in the Indo-Pacific and the second session will focus on inclusive trade policy.
Event Date and Time
Day 1 – June 30, 10:00 A.M. – 11:00 A.M. ET / June 30, 10:00 P.M. – 11:00 P.M. SGT
Day 2 – July 1, 11:00 A.M. – 12:00 P.M. ET / July 1, 11:00 P.M. – July 2, 12:00 A.M. SGT
This event is free for all PBEC members to attend and we welcome you share this invitation to more of your circle. Event details, registration and speaker bios are at the event website here: https://app.glueup.com/event/us-pecc-strengthening-trade-and-economic-ties-in-the-indo-pacific-37941/ A draft agenda is also attached.
For more information email Loraine Ashcraft directly quoting you are a PBEC member and wish to learn more.(lashcraft@ncapec.org).
Click here for the event agenda: USPECC June Policy Dialogue Agenda – Draft