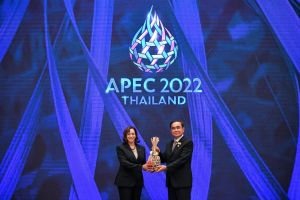 PBEC was delighted to have achieved a coup at its recent Annual Dialogues Summit 2022 in hosting the outgoing APEC Thailand 2022 Chair representatives and the incumbent APEC USA Chair for 2023 together only 24 hours after APEC 2022 had concluded.
A big thank you to the following speakers who were able to attend our PBEC Summit and share their first-hand views and observations as well as glimpse into the year ahead, having just gotten back from attended either the APEC & COP27, only 24 hours after both summits had finished, namely:
Tan Sri Dr. Rebecca Sta Maria Executive Director APEC Secretariat (Singapore)
Ms. Laura Lane Executive Vice President, Chief Corporate Affairs & Sustainability Officer at UPS, and Co-Chair of APEC Business Advisory Council -ABAC 2023 USA (USA)
Dr. Narongchai Akrasanee Former Commerce & Energy Minister Thailand, PM Advisor, Chair of TNPECC & Khon Kaen University Council Member (Bangkok, Thailand)
Matt Murray – U.S. Senior Official for APEC at the U.S Department of State (USA)
Stephen Jacobi Former Executive Director 2021 ABAC – APEC Business Advisory Council & Member of RCEP Business Advisory Council. Host of ABAC I Meetings in February 2023 (Auckland, New Zealand)
Suzanne Puanani Vares-Lum President of the East-West Center, Former Major General in the US Army (Honolulu, Hawaii, USA)
Yasmin Siddiqi Director Central West Region Water Sector Group ADB (Manila, Philippines)
Katharine Cross Strategy and Partnerships Lead, Australian Water Partnership (Australia)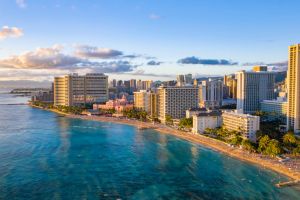 The U.S. is kicking off the 2023 APEC conference with precursor meetings for ambassadors from the 21 member nations to have more informal discussions. These meetings are said to involve about 150 individuals and will take place at the East-West Center in Manoa, Hawaii, USA.
Informal Senior Official's Meeting (ISOM) will take place from 7-9th December 2022 at the East West Center, Manoa, Hawaii, USA.
ABAC I meeting to be hosted in Auckland, New Zealand by ABAC NZ 12-14th February 2023. (More details to follow)