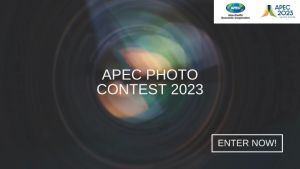 Now in its 12th year, the APEC Photo Contest showcases inspirational photos from around the region with a creative take on APEC host priorities. The annual photo contest celebrates the resilience and adaptability of the 21 APEC member economies.
Share with us images that will make us think, reflect and admire how people are interconnected, innovative, and inclusive in their daily lives, what sights they see and the sounds they hear in the APEC region.
How do you picture a resilient and sustainable future for all?  Show us your vision of the theme and priorities of the United States' APEC host year. Inspire us with your photography and interpretation of any one of the following #USAPEC203 theme and priorities:
Interconnected
Innovative
Inclusive
These priorities aim to build a more interconnected region, support innovation and reaffirm equitability and inclusivity in all parts of the Asia-Pacific. Your photos paint a thousand words that can help tell the story of this endeavor. Give us your best shots.
The photo contest is open to everyone INCLUDING THE PBEC COMMUNITY—professionals and amateurs alike, young and old. Your work will be evaluated by a panel of judges consisting of the APEC Secretariat's Executive Director, Chair of APEC 2023 Senior Officials' Meeting, award-winning photojournalists, and photographers from the region.
Read more HERE on the entrance rules and regulations as well as this years prize fund awards.