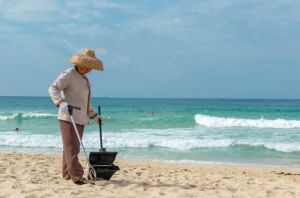 APEC released a set of guidelines to further the forum's work on environmental services and marine debris management. The guidelines encourage member economies to facilitate services that support the clean-up of marine debris from beaches, rivers, coastal areas, and the open ocean.
Marine debris refers to plastic and other litter, discarded and lost fishing equipment, industrial rubbish, and other human-created waste that enters the seas and oceans. A 2020 report by APEC Ocean and Fisheries Working Group estimated that marine debris costs the region nearly USD11 billion annually and will reach USD216 billion in 2050.
The APEC Non-binding Guidelines on Services that Support the Clean-up of Marine Debris were welcomed by APEC Ministers Responsible for Trade when they met in Detroit last May.
"Under the guidelines, APEC members will, amongst other things, endeavor to promote trade and investment in marine debris clean-up services and to reduce relevant barriers," said Thomas Fine, Convenor of the APEC Group on Services.
The group spearheaded the development of these guidelines, drawing from the APEC Reference List on Environmental and Environmentally Related Services endorsed at the 2021 APEC Ministerial Meeting.
"Economies will work together to develop a market for marine debris clean-up services, including by reviewing unnecessarily restrictive regulations, by fostering private sector engagement, and by facilitating the transition to a circular economy," Fine added.
Read more by clicking HERE