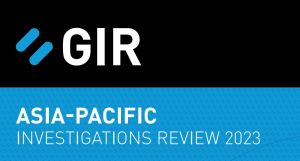 Innovative solutions to cross-border sanctions, anti-money laundering jurisdiction challenges for corporations
Source: Global Investigations Review by Law Business Research 2022
Abstract
Financial services investigations have not slowed down in the past year notwithstanding the challenges posed by the covid-19 pandemic. The various regulatory authorities also continue to work on enhancing the regulatory framework and enforcement regime, to for greater effectiveness in addressing misconduct in the financial sector.
This Review Paper contains insights and thought leadership from 17 pre-eminent legal practitioners from across the APAC region. Together they address a variety of subjects with footnotes and relevant statistics. This annual edition in particular focuses on Australia, Singapore and China, and has overviews on cryptocurrencies, on the challenge of dealing with more than one national enforcement agency, and on how to work smarter in the post-covid world.
Other gems in this review are:
Vietnam on its anti-corruption drive;
Singapore requiring you to report if property may be 'connected' to crime even where the property (or the crime) are unconnected with Singapore;
Linkedin is one of the apps sophiscated fraudsters now use to find and groom their victims; and
There are 18,000 cryptocurrencies currently in existence.
And much, much more….
Click the link Here to view the whole report.