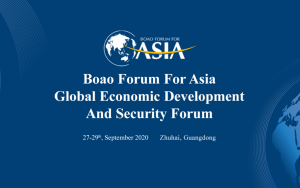 Headquartered in China, the Boao Forum for Asia (BFA) is an international organization jointly initiated by 29 member states. BFA holds its annual conference in Boao, Hainan on a regular basis. The founding purpose of BFA was to promote economic integration in Asia. Its mission now is to pool positive energy for the development of Asia and the world.
The accomplishments of BFA have been impossible without the strong support and active participation of the governments of member states, various member partners, and visionaries from various communities. It now has become a high-level dialogue platform for the political, business and academic leaders from Asia and other continents to discuss key Asian and global issues.
BFA is now at a time of reform and innovation, inheritance and creation. Based in Asia and reaching out to the world, it keeps the nature of economic forum while actively explores new economic formats and international frontier issues such as health, security and development, science, technology and innovation, education, culture and media. In this context, BFA launches the Global Economic Development and Security Forum (GEDS). GEDS aims to create a high-level dialogue platform for political, business and academic leaders to better promote international exchanges and cooperation with the view to enhance economic development and security, and support the realization of UN's 2030 Agenda for Sustainable Development Goals.
PBEC members are invited to speak. Contact PBEC CEO Michael Walsh for more info
Click here to view the call for speakers document