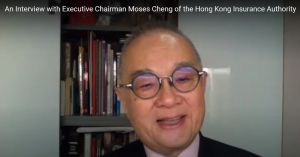 I had the chance to put the following questions to Moses on the Key areas that the IA is working on currently on a recent zoom meeting.
What are the reasons behind the setting up of the Insurance Authority as an independent insurance regulator back in 2015? What are the major differences from the previous self-regulatory regime?
What are the emerging development opportunities for the Hong Kong insurance industry? What have the IA done to explore and capture these opportunities?
How does the IA co-operate with its Asian and international counterparts to keep pace with regional and global regulatory standards and industry trends?
The global economy has been badly hit by the COVID-19 pandemic. What is the impact of the pandemic on Hong Kong's insurance industry? What has the IA done to cope with it?
Speaking of Insurtech, what has the IA observed about its application in Hong Kong? What are some of the initiatives that the IA has put forward to facilitate the development of Insurtech?
The development of sustainable and green finance has gathered a lot of momentum recently. What can insurance contribute to this global initiative?
Would you agree that engagement with an institution like PBEC, which advocates for sustainable and responsible economic development across Asia and the Pacific, would be beneficial to corporates and business organisations?
Are you bullish that the Hong Kong government, business sector and society in general can pull through the current crisis? What advice and words of encouragement would you like to share with the PBEC members.
You Tube link to video file of interview: https://youtu.be/14RRTGoRWKw
Audio only here: https://soundcloud.com/pbec-org/interview-with-dr-moses-cheng-chairman-of-ai-podcast-may-2020