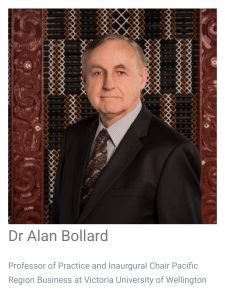 Dear PBEC Members,
This is to inform you that Dr. Alan Bollard has been appointed as the new Chair for NZPECC and Dr. Robert Scollay as Vice Chair for NZPECC.
PBEC as a Standing Committee Board member of PECC welcomes both Dr. Alan Bollard & Dr. Robert Scollay and thanks Mr. Brian Lynch for his service and immense contributions.
Bio for Dr. Alan Bollard
Currently, Dr. Bollard is the Chair of the Infrastructure Commission, Chair of the cross-university Centres for Asia-Pacific Excellence, and Chair of the New Zealand Portrait Gallery. He is NZ Governor of the Economic Research Institute for ASEAN and East Asia, and was on the Organising Committee for NZ APEC 2021. He is a Director of China Construction Bank (NZ).
Previously, Dr. Bollard was the Director of the New Zealand Institute of Economic Research 1987-1994; Chairman of the New Zealand Commerce Commission from 1994 to 1998; and was the Secretary to the Treasury between 1998 and 2020.
Between 2002 and 2012 Dr. Bollard was the Governor of the Reserve Bank of New Zealand, responsible for monetary policy and bank regulation, helping steer New Zealand through the global financial crisis. Dr. Bollard became the Executive Director of the APEC Secretariat based in Singapore, the world's largest regional body that promotes trade, investment and sustainable growth in the Asia-Pacific, serving from 2012 to 2018.
Dr. Bollard takes over the position from Mr. Brian Lynch, the former NZPECC Chair, who has retired from NZPECC Board on 22 June 2022.
Dr. Robert Scollay Bio
Dr. Scollay is Honorary Associate Professor in the Economics Department at the University of Auckland and former Director of the New Zealand APEC Study Centre.  He has a long history of contributing research and policy analysis to the APEC process and also to the work of the Pacific Economic Cooperation Council (PECC), including as international coordinator of PECC's Trade Policy Forum for several years, and as a current member of the board of directors of the New Zealand Committee of PECC.