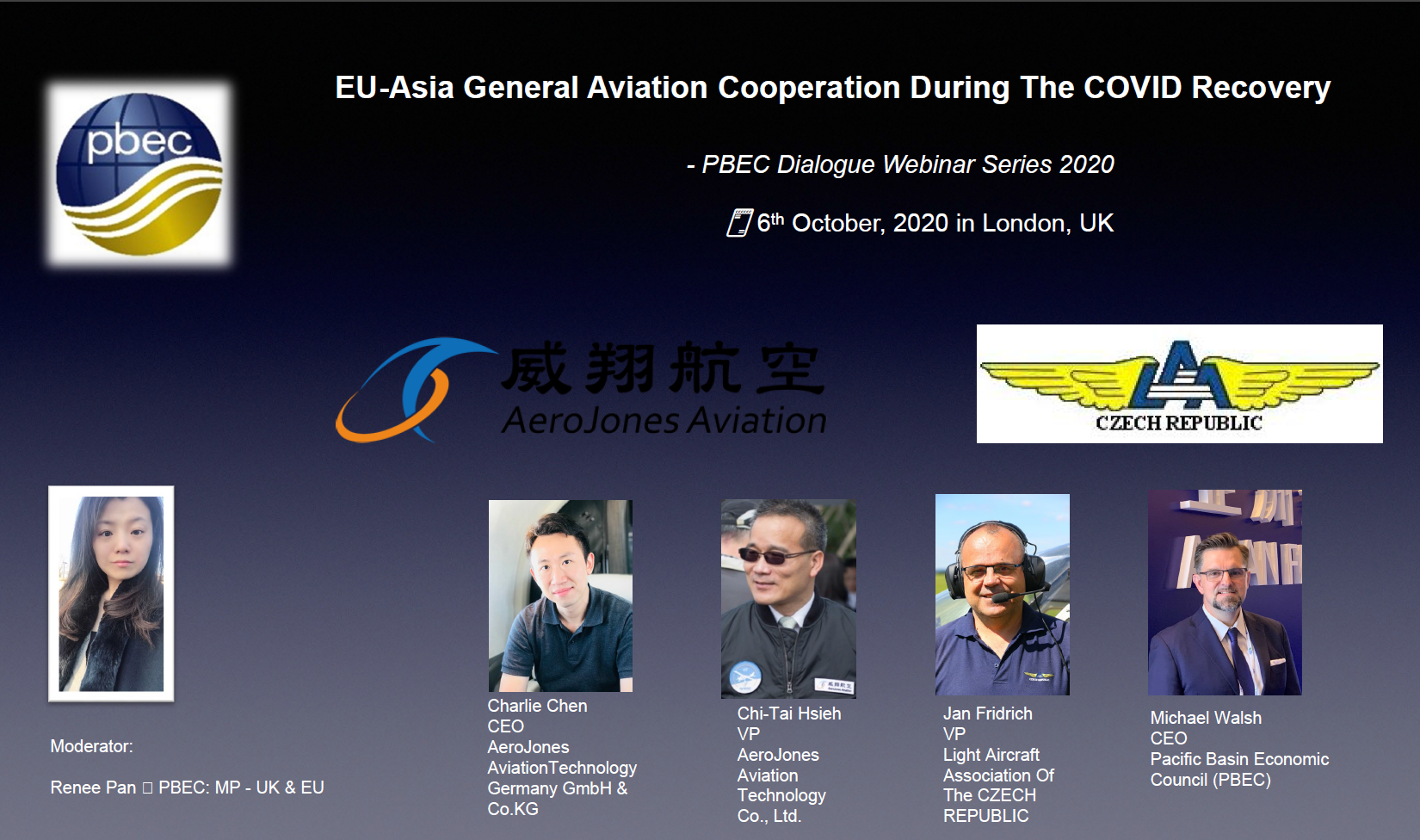 PBEC EU-China General Aviation Cooperation During COVID Recovery Webinar 4
PBEC UK organised a dialogue & informative webinar between manufacturers, stakeholders and experts within General Aviation. Due to the pandemic – aviation sector has been one of the hardest hit. However, GA is the grass-rooted and lifeblood of the sector. We hear from experts in Europe in particular the Czech Republic, China and Taiwan. How has the China market faired in this segment and what does the future potentially hold.Speakers & 
Watch the Webinar here:
View the presentation slides here
Presenters included:
Charlie Chen – CEO | AeroJones Aviation Technology Germany GmbH & Co.KG @ Taiwan, CHINA
Charlie Chen is the CEO of AeroJones Aviation Technology GmbH & Co.KG. The company is formed in 2016 providing services such as Aircraft Design (R & D), Aeronautic engineering and various kind of aviation engineering support and continuous operation safety management of the aircraft fleet to the Parent Company and Customers.
He joins the AeroJones group since 2015 to assist the company to establish and recruit the elite engineering team located in Berlin, Germany and Kherson, Ukraine with the goal to bring to the market the best 2 seaters aircraft in the industry.
Charlie graduated from Queen Mary University of London with a Bachelor in Business management (BSc) and completed Post Graduate degree in Banking and Finance (MSc) in the same university. Inspiration by his father, Later on after academic education a gap year in Kyoto, Japan to experience their culture of "Shokunin Spirit" which is the pursuit of perfection from different aspects and also learning the Japanese language.
With the experience and educational background, in 2016 Charlie was actively involved in the Acquisition of IP rights from another aircraft manufacturer, and achieved the best possible results for the company.  He is also actively assisting the parent company exploiting potential oversea market opportunities.
In 2018, Charlie is elected to become a member of the Taiwanese UAV technology industry committee by the Ministry of Transportation and Communication (Taiwan).
Chi-Tai Hsieh – VP of GA Development | AeroJones Aviation Technology Co., Ltd. @ Taiwan, CHINA
Mr. Hsieh, Chi-Tai (Tai) the Vice President of AeroJones, is in charge of marketing and sales. Tai joined AeroJones in 2013 and started to set up the company's systems and production lines, and became familiar with the regulations and certification of light sport aircraft. Tai is also the member of the ASTM F37 Light Sport Aircraft Committee.
Tai was born in 1966.  Graduating from Chung Cheng Institute of Technology in 1990 with a degree in Aeronautical Engineering, Tai  was assigned to serve in the Taiwan Air Force. While serving in the Air Force, Tai went to the U.S. Air Force for aircraft maintenance officer training (Outstanding Graduate Award) and to the Ecole Nationale de L'Avaition Civile (ENAC) in France for a master's degree. Tai retired from the Air Force as a Colonel in July 2010.
During the service in the military, Tai was mainly in aircraft maintenance management, logistics management and international cooperation. Tai is familiars with production management, factory management, quality control, and supply chain management. Serving in the Taiwan Armaments Bureau, Tai was at the ground floor of creating an Acquisition and Logistics policy, to include implementing Total Life Cycle System Management (TLCSM), and in creating a Logistics Strategic Planning process for the Taiwan Military. Tai was involved in establishing an acquisition infrastructure, including policy, training and career development. Tai was also in charge of the acquisition logistics exchange between the Taiwan Ministry of National Defense and the U.S. Department of Defense, and had undertaken many international exchange activities.
Jan Fridrich – VP | Light Aircraft Association Of The CZECH REPUBLIC @ CZECH
Jan Fridrich is Vice President of Light Aircraft Association of the Czech Republic and Chairman of LAMA EUROPE.
Since 2012, Jan is involved in EU-China General Aviation activities, he is co-author of Czech Project of A-Z Solution for Chinese GA. During the 2013 – 2016, he was one of the main negotiators of China-Czech Technical Arrangement about validation of ultralight Type certificates. In 2014, Jan was involved in EUCCAP project where he contributed to the final report which suggested more than 50 recommendations how to improve Chinese GA. In 2016, he supported EASA as GA Technical expert in the inception phase of the EU-China Aviation Partnership Project (APP). In 2017, Jan is negotiating the PC/TC Split Arrangement between the LAA CR and CAAC. In 2018 worked as Assistant Chief Designer on D6 project – joint Czech-China development of 9 seat GA turboprop aircraft. In 2019 he established his own company Jan Fridrich General Aviation Consulting.
Jan holds a degree from Technical University of Brno, speaks Czech, English and Russian languages. He specialises in ultralight and LSA. He holds a microlight pilot license.
Michael Walsh – CEO | Pacific Basin Economic Council @ Hong Kong, CHINA
Michael Walsh CEO of (PBEC) Pacific Basin Economic Council – an Invitation Only Members Organisation for Owners, Founders and Senior Business Leaders from the 21 APEC – Asia Pacific Economic Council Member States. PBEC advocates the economic benefits of responsible & sustainable business, digital trade and a friendly rules based regulatory environment for companies in the APAC region. It works closely with its partners at APEC and ABAC – the APEC Business Advisory Council and participates in APEC Transportation, Finance and Energy Working Groups with Government counterparts.
Walsh has 24 years of global experience in aviation and brings independent market insights across Asia. He retains a keen interest in the sector and acts as a senior advisor, consultant and advocate/lobbyist for multiple Aviation stakeholders and clients through his consultancy firm Aer Mobi. Walsh works on new industry initiatives such as reducing its carbon footprint and accelerating digital transformation efforts in operations and finance through supporting tech start-ups like www.portside.co  He has also worked as a sub-consultant with global aviation practices such as ICF, Frost & Sullivan, Babcock & Brown, Ramboll & McKinsey on regional feasibility studies, projects & master planning that support the development of the circular economy. Walsh is well-known as a passionate connector and influencer in the business aviation sector. He is currently focusing efforts on the acceptance and adoption of SAF – Sustainable Aviation Fuel with APEC Member States.
His Philanthropy efforts:  Walsh is proud to have created the annual Icons of Aviation Annual Awards Asia and charity gala dinner which has raised over USD175,000 in donated funds for the Orbis Charity from 2015-2018.
His CSR efforts: He also created the AsBAA Student Discovery program initiative to educate young people about Business and General Aviation across Asia and worked with several Govt Agencies, universities & Airport Authorities to advocate new infrastructure to accommodate the future of general and business aviation. He stood down from his voluntary position at AsBAA Board after 5 years' service July 2014 to June 2019 to take up the position at PBEC.