Crystal Jiang: Delivering legacy to next generations
Crystal Jiang was once a star host at Phoenix Television, now she runs a one-stop financial service group, DL Holdings Group.
After winning the Champion of "Miss Chinese Cosmo Pageant" in 2003, Ms. Crystal Jiang started her career as a TV host at Phoenix Television in Hong Kong, anchoring financial, current-affairs and social programs. After more than a decade, she is now the Chairman of the Board as well as the Executive Director of DL Holdings Group Limited, a main board listed company in Hong Kong (1709.HK).
10 years ago, Crystal co-founded DL Family Office and DL Securities, which is now the subsidiaries of the listed company, with her husband, Andy Chen. Starting a business is by no means easy. Looking back at the past 10 years, Crystal saw ups and downs, but she never gave up. What engraved in Crystal's mind and heart deeply was not the excitement and fulfillment when company made money, but the experiences of conquering difficulties and obstacles. The moments when the company rebounded from the bottom, and saw the dawn and hope are most unforgettable to her. What helps Crystal and the company to survive in the difficult times are two words: belief and responsibility. Several years ago, DL's business suffered a big setback. The company was at stake and had to implement reorganization, salary cuts and layoffs. Without the belief in team and responsibility for customers, it was impossible for the company to walk away from this predicament. In 2020, DL Holdings became a main board listed company, and Crystal had an even more challenging role.
Currently, with Crystal, Andy and the whole company's efforts, DL Holdings has become a one-stop financial service group headquartered in Hong Kong with offices in Shanghai, San Francisco and Singapore. DL Family Office has become a leading multi-family office in Asia, providing a full range of family office operations for its clients, including cash management, venture capital, family trust, insurance business, fixed asset investment, corporate governance, charity, education consulting and media public relations. Meanwhile, DL Securities, mainly run by Andy, is also a well-known financial service company in Hong Kong, providing capital market services, securities brokerage services, corporate financing advisory services, and investment advisory services.
After 10 years of exploration, DL now sets its core philosophy to align DL's interests with the clients to provide tailored wealth management and investment banking solutions by utilizing a 'Friendly Activist Strategy'. In pursuing this goal of becoming a navigator and a bridge in connecting its Mainland Chinese clients' wealth with global markets, Crystal entered a new sector- the real estate industry in 2016. Crystal firmly believed that investment and establishing a track record for solid asset returns in real estate projects in North America was necessary in DL Family Office's global asset allocation. "By serving our family office Mainland China clients, we found that real estate investments are favored by those ultra-high-net-worth Chinese families because they are excellent hedges against inflation."
In February 2017, DL purchased September Ranch, then changed its name to the 'ONE Carmel Project'. ONE Carmel is a unique luxury residential development that consists of 73 private estates located in the heart of Carmel Valley, Monterey County, California. The total land area of the project is 891 acres. Lot sizes range from 1.8 acres to 12.3 acres, with an average lot size of 4.38 acres.  The goal of ONE Carmel is to build a "ONE Village" community which combines full-fledged service and high-end luxury infrastructure, targeting ultra-high-net-worth families worldwide, not just Chinese nationals. "We hope to build a smart, sustainable and diversified community of like-minded investors to satisfy our client's imagination of future homes and community spirit. This development idea did not just crop up suddenly out of nowhere but is based on our own analysis of the market data for real estate investment in the United States, consumer behavioral statistics, ultra-high-net-worth families' investment needs, as well as the local land supply and demand." Crystal explained.
As a lifelong learner, Crystal continues to be excited about entering new industry sectors on behalf of DL's clients if they make sense. To equip herself with more knowledge of the real estate sector and to adapt to the new opportunity DL Group found itself in, Crystal attended Harvard Business School to acquire and hone her asset management skills. Crystal graduated from Harvard AMDP in Real Estate program in April 2020.
In December 2020, One Carmel received its final mapping approval from Monterey County after a lengthy development application process. Crystal and her team faced up to a lot of challenges along the way. Not to mention the cultural differences in doing business, the planning restrictions as well as the conditions the project originally faced, there was even a black swan event – in the COVID-19 pandemic in 2020, which hit the global economy significantly and slowed down the US high-end real estate market for foreign investors. "When the development finally got the green light, it brought back so many memories of how we started our real estate business in the United States, how we planned for the community, how we obtained the final approval from the local county. Luckily, we have a team which is dedicated and strive to overcome these obstacles. And all of our hard work finally paid off." Said Crystal proudly.
The construction of ONE Carmel will now start by the end of this year 2021. Crystal is optimistic about the prospects of the ONE Carmel project in the long run: "The project will become an important tool for our clients' family wealth preservation. In addition, "ONE Club", which derives from the project, will form a multicultural elite social circle and promote member club transactions to create greater social and economic value worldwide, as well as preserve family legacies for generations." Crystal also mentioned that several Silicon Valley tech leaders and wealthy families in China have expressed their strong interest in the project with DL securing already its first pre-sales of their 73 planned lots.
Under the leadership of Crystal and Andy, DL has spent the past 10 years honing its sword, and now is the time to unsheathe it. Regardless of adversity or prosperity, DL has been consistently doing one thing: to provide ultra-high-net-worth Chinese families with a full range of global asset allocation and financial services with integrity, professionalism, and unwavering focus. Now DL is truly becoming the fusing agent and the protective barrier between family fortune founders and their businesses. DL will continue to move forward along with the giants, dedicating itself in helping those families to establish roots outside of China and to pass the torch to the next generation.
Contact details:
Email: info@dl-holdings.com Website: http://www.dl-holdings.com/ Tel: +852 3188 5552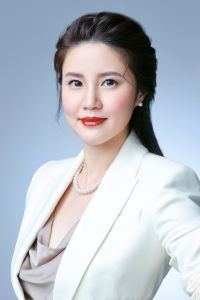 About Crystal Jiang: She has over 18 years of experience in the financial and media industry. She is the Co-founder, Partner of DL Holdings Group, and also the Executive Director and Chairman of the board of the listed company.
In 2012, Ms. Jiang founded DL Family Office which currently holds Type 4 (advising on securities) and Type 9 (asset management) licenses issued by the Hong Kong Securities and Futures Commission (SFC). DL Family Office is dedicated to providing comprehensive solutions for Ultra-high-net-worth families in Europe, US and Greater China.
Prior to founding DL Family Office, Ms. Jiang was a Senior Vice President of J.P. Morgan Private Bank covering Hong Kong and China. Prior to her role at J.P. Morgan, Ms. Jiang was the Senior Vice President of Standard Chartered Private Bank and HSBC Private Bank. Ms. Jiang is also the founding member of PBEC (Pacific Basin Economic Council) China Chapter and serves as a board director.
Prior to joining Standard Chartered and HSBC, Ms. Jiang was a TV host at Phoenix Television, anchoring financial, current-affairs and social programs including "News Talk Today", "International News Reporting' and "Going Around China". Ms. Jiang was the Champion of "Miss Chinese Cosmo Pageant 2003".
Ms. Jiang graduated from Advanced Management Development Program from Harvard University Graduate School of Design. She holds a Master Degree in Media Management and Social Science from Hong Kong Baptist University and a Bachelor Degree of Arts in Communication, International Journalism and English Broadcasting from Communication University of China.
About Andy Chen: He has over 20 years of working experience in financial industry. He is Co-founder, Partner of DL Holdings Group, and also the Executive Director and CEO of the listed company.
Mr. Chen founded DL Securities & DL Family Office successively. From 2012 to 2015, he was responsible for the regulated activities of DL Securities (HK) Limited with Type 4 (advising on securities) and Type 6 (advising on corporate financing) under the Securities and Futures Commission. From 2013 to 2015 he was responsible for DL Securities (HK) Co., Limited with Type 1 (Dealing in Securities) regulated activities under the Securities and Futures Commission. During this period, he has participated in a number of global capital market projects.
From February 2015 to August 2015, Mr. Chen was a non-executive director of Greater China Financial Holdings Limited (formerly known as Greater China Industrial Holdings Limited) (stock code: 431). He was appointed as the company's chief executive until his resignation in June 2016. Mr. Chen was an executive director and founding member of Bohua Capital Fund and Bozhi Capital Fund (both private equity companies). He has previously worked for HSBC Hong Kong Global Investment Banking, London HSBC Group Capital Markets and Hong Kong HSBC Bond Markets.
Mr. Chen holds the Bachelor Degrees (Hons) in both Economics and Statistics from the University of Chicago.