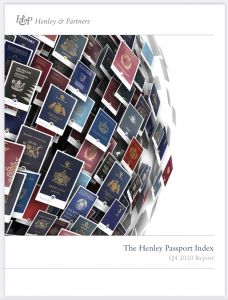 The Henley Passport Index is the original and most authoritative ranking of all the world's passports according to the number of destinations their holders can access without a prior visa. The index includes 199 passports and 227 travel destinations, giving users the most extensive and reliable information about their global access and mobility.
With historical data spanning 15 years and regularly updated expert analysis on the latest shifts in passport power, the index is an invaluable resource for global citizens and the standard reference tool for government policy in this field.
The ranking is based on exclusive data from the International Air Transport Association (IATA), which maintains the world's largest and most accurate database of travel information, and is enhanced by the Henley & Partners Research Department.
The index's scoring system was developed to give users a nuanced, practical, and reliable overview of their passport's power. Each passport is scored on the total number of destinations that the holder can access visa-free. For each travel destination, if no visa is required, then a score of 1 is allocated for that passport. This also applies if passport holders can obtain a visa on arrival, a visitor's permit, or an
electronic travel authority (ETA) upon entry.
Where a visa is required, or where a passport holder mustapply for a government-approved electronic visa (e-Visa) before departure, a score of 0 is assigned. The same applies if they need pre-departure approval for a visa on arrival.
As well as allowing users to discover the strength of their own passports, henleypassportindex.com enables them to compare their passport to others by looking at differences in access and learning where their passport ranks regionally as well as globally. The site also allows users to explore 15 years' worth of historical data and discover how the strength of their passport has changed over the years and view the top climbers and fallers on the index.