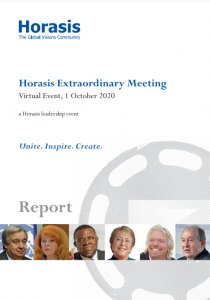 Horasis held its first digital Extraordinary Meeting on 1st October 2020 with the theme of Unite. Inspire. Create. The meeting brought together heads of state, prime ministers and other government representatives as well as CEOs and entrepreneurs from around the world. 900 speakers contributed to the discussion of themes spanning politics, business and civil society across 150 sessions – the largest online meeting held by any organisation so far.
The discussions through the meeting covered a wide range of issues and delegates endeavoured to generate novel solutions pertaining to the difficulties facing us all at the present time, especially with respect to the effects of the COVID pandemic. There is a clear and present need to ensure we aid all the disenfranchised, to meet our Sustain able Development Goals and attempt to meet our climate change targets, making the planet greener. Businesses need to pivot to new modes and to change their targets to be sustainable.
Horasis decided to address these issues under the themes of Unite, Inspire, Create so delegates could discuss and derive novel ways to support our unique new-normal future – to strengthen global coordination, cooperation and multilateralism via its international institutions. This has been recognised by the UN who have created a new policy review of 'Democracy without Borders' within a UN Parliamentary Assembly (UNPA) – it will be an addition to the
UN General Assembly under the title of UN75 thus celebrating its 75th year of incorporation.