It's a pleasure to have been asked to share my thoughts on the outlook for Fine Wine Investment in 2021. I do hope you enjoy reading this research, and find it enjoyable, interesting and perhaps above all though-provoking…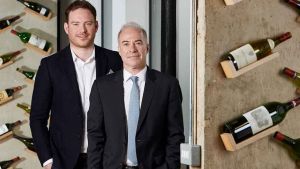 Fine wine investments are on firm footing for the year ahead. A stable track record and growing geographic diversity form the basis of our positive outlook despite the challenging global backdrop as we head into 2021.
The past year underscored that fine wine is a resilient investment. The Liv-ex 1000, an index that tracks the price of 1000 of the world's most-traded fine wines, returned 1.3% year-to-date at the end of November 2020, rebounding after a relatively modest decline in the first half of the year when coronavirus volatility peaked. Despite the pandemic and global trade disputes, fine wine managed a favourable return while displaying low volatility relative to most financial markets.
We think fine wine can build on its recent performance and have identified two dynamics at the heart of our outlook:
Greater Growth Potential – News that multiple vaccines could get rolled out early next year provides hope that the hospitality sector will normalise in 2021, unleashing further potential for fine wine to recover toward its long-term growth trend. Even after the strong end to 2020, the chart below shows that the Liv-ex benchmark remains well below its long-term trend (7.7% compound annual growth rate since January 2004), meaning we see room for the rebound to accelerate.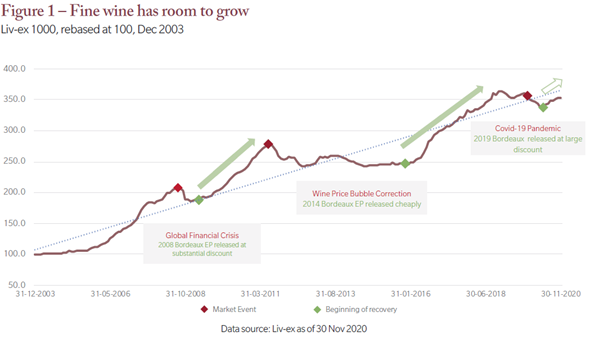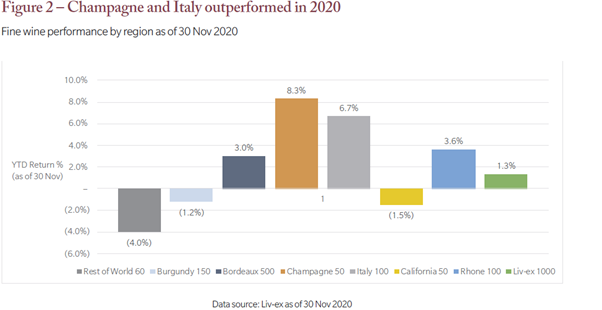 However, we are cautious on the economic outlook as the recovery could be slow and uneven. Still, fine wine can maintain stability and deliver healthy returns. Interest rates should remain low, and in some cases negative, for a period of time, pushing investors to seek other sources of return, such as fine wine. A low correlation to equity markets could also attract investor interest should an uneven economic recovery lead to equity market volatility.
However, risks to remain as the market was reminded of in late November when China implemented tariffs on Australian wine imports. Elsewhere though, the market is hopeful a Joe Biden administration will repeal the 25% tariff the US imposed on wine imports from France, Germany, Spain and the UK since 2018. While we exercise caution on predicting political moves, we do expect this will bring more US merchants back into European markets since the political change at least removes the threat of any additional tariffs in the medium term.
The UK's transition period to exit the EU is set to end of 1 January 2021 and as of the time of writing, a new trade deal has not been agreed, creating additional obstacles and uncertainty. The currency exchange rate forms another important variable. If the British pound weakens, wine imports from the EU and elsewhere would become more expensive for UK buyers, hurting demand. However, a weak pound can also exert upward pressure on fine wine prices. Significant stocks of fine wine are denominated in pounds as the UK remains a global wine trading hub. Therefore, a weak pound could spur demand from outside the UK.
More Choice Globally – We expect the global fine wine market to continue to diversify and expand as new regions and producers gain attention. Some of the top performing regions in recent years have been Italy, Champagne and Emerging Markets rather than the more established Bordeaux and Burgundy. The past year also saw the continued rise in automated trading. This strengthened fine wine's resilience in the face of COVID-related shutdowns as well as increased the market's diversity. With a larger choice of global wines, investors have more opportunities for continued performance in different backdrops.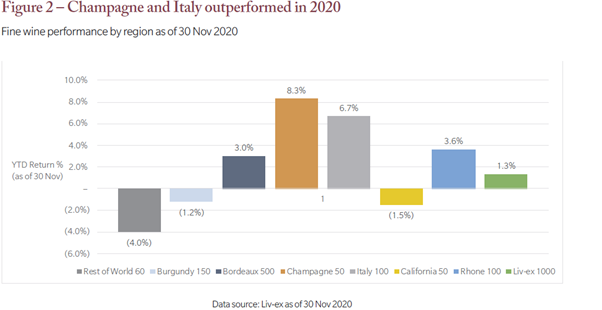 Following their strong 2020 performances, we think the growing Italy and Rhone regions will continue to gain attention from international audiences. Italy, in particular, should receive a boost from recent quality Piedmont region vintages, specifically 2015 and 2016 Barolo, as well as the upcoming release of 2016 Brunello di Montalcino vintage which has generated high praise from critics.
Although conditions that made Champagne the star performer of 2020 may not repeat, we think back vintages as well as Grower Champagnes, which are producers making wine with grapes from vineyards they own, appear attractively priced.
In terms of the established French regions, we regard Bordeaux as a two-tier market, preferring several older vintages to some of the more recently released wines. After a year of disruption from COVID and tariffs, it will be important to see how the 2018 vintage is scored when it is released in bottle. Following the discounted 2019 en primuer event, the pricing level of the 2020 en primeurs will also drive the regional market.
Burgundy has struggled over the past two years following a period of outperformance in middle of the past decade. The region's wines could rebound in the year ahead with up-and-coming producers offering the most potential, in our view.
The future looks bright for many developing wine regions, such as Argentina and Chile, because the improving quality and range of their investment-grade wines is getting noticed by wine critics. This diversity of choice improves the long-term outlook for fine wine overall. However, various regions, producers and individual wines will behave differently under different conditions. Going forward, we think an analytical approach will be increasingly important to uncover the best wines with attractive risk-adjusted return potential.
Tom Gearing
CEO & Co-Founder
Cult Wines