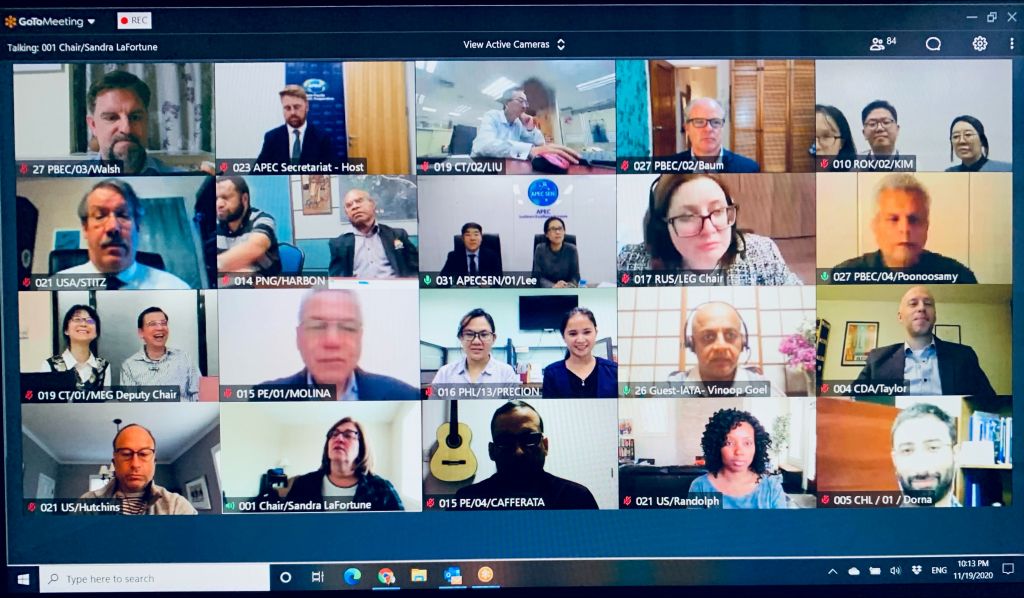 PBEC was pleased to contribute to the final APEC TPTWG – Transportation Working Committee (Hyperlink to attach to the TPTWG word) https://www.apec.org/Groups/SOM-Steering-Committee-on-Economic-and-Technical-Cooperation/Working-Groups/Transportation Thematic meeting of 2020, held virtually on the evening of the 19 Nov. The same day as the APEC2020 CEO Dialogues virtual Summit.  Read more
PBEC wishes to thank its expert contributors namely Caspar Baum Aviation Director of Surbana Jurong Singapore (Hyperlink to attach to Caspar name) https://surbanajurong.com/perspective/caspar-baum/ & Satya Ramamurthy Senior Partner & Head of Strategy KPMG Singapore.  (Hyperlink to attach to Satya name) https://home.kpmg/sg/en/home/contacts/s/satyanarayan-ramamurthy.html
Caspar spoke about the topic of Returning to the Skies with Safe & Trusted Air Travel for consumers through touchless processing, test and trace and monitoring being implemented. International passenger traffic is starting to gradually pick up in the region with routes returning albeit with limited frequency. It will continue to be a turbulent flightpath ahead for the aviation industry as we enter 2021. Airfreight continues to be the bright spark with continuing and increasing just in time supply chain, PPE & e-commerce demands. The global vaccine delivery, transportation will be a major undertaking and aviation transportation will play its role adding further demand which will require a lot of special logistics and cold storage handling facilities at airports and temperature controlled environment onboard an aircraft.
Satya shared his thoughts and trends in the touch-less payments segment across mass transit, public transportation systems, with multiple providers & payment online providers collaborating to provide a more seamless experience for travellers, increasing the cash-less economy trend accelerated during Covid in Asia.
The next APEC TPTWG experts meeting is scheduled to take place in February 2021.