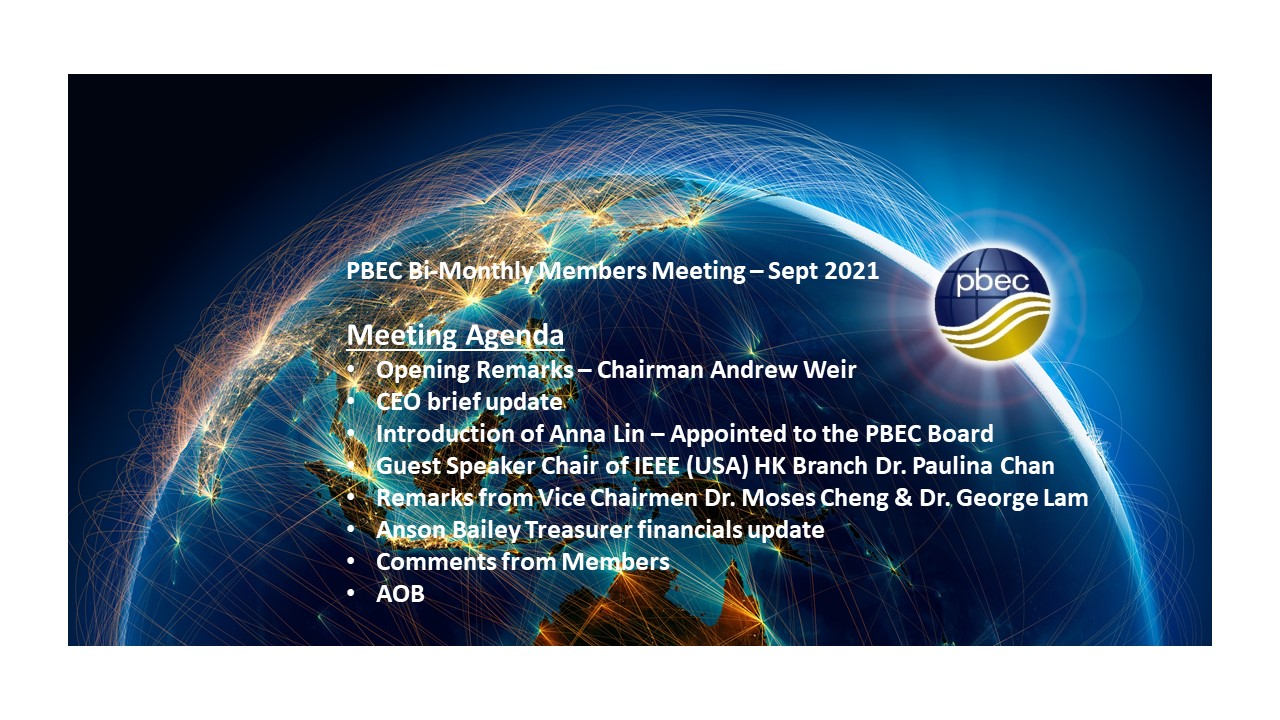 When: Sep 8, 2021 10:00 AM to 11:15 AM Hong Kong SAR
Where: Via Zoom Virtually
Topic: PBEC Bi-Monthly Members September Meeting
Please kindly ensure you register in advance for this webinar – this meeting is strictly for PBEC members, their appointed designates ONLY:
Click link here to register: https://us02web.zoom.us/webinar/register/WN_rjw5anXYTHqzGBIZR2HpCQ
After registering, you will receive an automatic confirmation email containing information about joining the meeting. If you have already registered for this meeting, thank you.
PBEC Virtual Meeting protocol
Please have your camera's on and branded backdrops removed. Please check your name is displayed correctly. If you are not speaking please ensure you mute yourself. Of course feel free to say hi to everyone at the beginning and bye at the end if you wish too. The chat function will also be available to message everyone or directly to other attendees. Sharing relevant links is permitted as long as they are authorised ones and relevant. For those who wish to speak or comment as we work through the agenda, please use the raise hand function and I will give you the floor. We will try to take a picture of all attendees before completing the meeting. Its always a prompt start and hard finish time that we adhere too, so please be concise and brief in your updates.
I am delighted to share that we will have the following speakers in attendance that will provide brief remarks to the members as per the agenda.
We will also hear from our Vice Chairmen and Treasurer.
———-
Meeting Speakers confirmed:
Andrew Weir MBE (Chairman @Pacific Basin Economic Council)
Andrew is Regional Senior Partner of KPMG in Hong Kong & VC of KPMG China. Over 30 years' experience servicing listed companies, public bodies, investment funds & MNCs in Hong Kong, China, Asia & internationally. Andrew is a Fellow of ICAEW and HKICPA and is a Fellow and Council Member of the Institute of Directors. Andrew was appointed by the HKSAR Government as a council member of the Hong Kong Trade Development Council (HKTDC) to sit on the Greater Bay Belt and Road Committee and chair the Global Belt and Road Forum.  Andrew was appointed by the HKSAR Government as a director of the Financial Services Development Council (FSDC) and chairs its Governance Committee and sits on the FSDC Policy Research Committee.  He previously chaired the Listing Committee of the Hong Kong Stock Exchange and sits on the advisory panels of the Securities Institute, Hong Kong Investor Relations Association and Institute of Chartered Accountants in England and Wales (ICAEW).
Anna Lin JP (Chief Executive @GS1 Hong Kong)
With over 30 years of senior management in strategy formulation, business planning execution and pioneering innovative industry platforms, Anna's is the CEO of GS1 Hong Kong, leading the organization to establish platforms, ecosystems and programmes to drive industry adoption of global supply chain standards, practices and technologies for enhanced business efficiency, digital commerce and IoT development. She is a Chartered Fellow (FCILT), granted by The Chartered Institute of Logistics and Transport in 2018, recognising her achievement and contribution to the industries in Hong Kong.
Ms Lin holds a number of appointments including:
Member of GS1 Global Management Board and CEO Advisory Council;
Vice-chairman of Subcommittee on Infrastructure and Promotion, Hong Kong Logistics Development Council, HKSAR;
Chairman of Asian Institute of Supply Chains & Logistics Advisory Committee, The Chinese University of Hong Kong;
Member of APEC Committees on Trade & Investment
Dr. Paulina Chan (Chair @IEEE (USA) Hong Kong Section)

She is the Principal and CEO of Global Mutual Consortium, an international think-tank on tech-biz intelligence & innovation business development. Paulina holds a PhD in EEE & DIC from Imperial College London  & MBA from University of London. Previously Managing Director of AT&T/Lucent Technologies in the USA, Asia/Pacific, and the EU; Project Director of Exxon/Mobil Corporation Headquarters, New York; China Regional General Manager & of ICO Global Communications, London and Beijing. Dr Chan is the Chair of IEEE (USA) Hong Kong Section named the outstanding section in 2021 and Chair-elect of the Public Visibility Commission worldwide 2022. She is elected-Trustee of the Chartered Management Institute (UK), and the Chair of the CMI Regional Board in Hong Kong. Paulina is also the Champion of the Imperial College Mentoring Programme for the Imperial College Alumni Association in Hong Kong, Founding Chair of Imperial Women in World DSP, and former Imperial College Ambassador (Hon).