PBEC BoD & Member: Top Glove Corp – Chairman Tan Sri Lim bullish on continuing demand – the best quarterly results still to come. Announces investment of 4-5 new factories to be constructed within next 12 months in Malaysia to meet Global demand.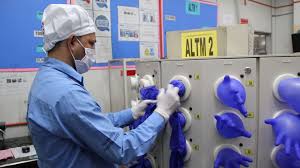 KUALA LUMPUR: Malaysia's largest rubber glove manufacturer Top Glove is investing US$1 billion over the next five years to expand its production capacity, in order to meet surging demand for protective gloves amid the COVID-19 pandemic.
Speaking to CNA in an exclusive interview, Top Glove's executive chairman and founder Lim Wee Chai noted that the company's third-quarter earnings ending May 31 jumped more than three times to hit almost US$90 million, while its share price has quadrupled since the beginning of the year.
The best quarter has yet to come, he declared, as the demand is still "very strong".
"We are now only just (getting) started. There are more good quarters to come. It is only the first quarter and we are seeing good results … The next five or six quarters can be even more in terms of sales revenue and profit."
Its nitrile gloves, he said, are oversold by 360 days, which means that customers will have to wait for up to a year to receive their orders. Most buyers are state agencies and many are willing to pay a higher price in order to secure their deliveries.
Read the full story here:
https://www.channelnewsasia.com/news/asia/covid-19-malaysia-top-glove-lim-wee-chai-interview-12931590