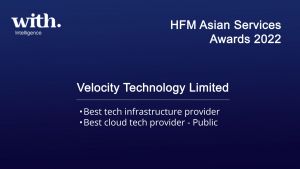 Velocity Technology is proud to announce that they have been awarded Best cloud tech provider – Public, and Best tech infrastructure provider at the With Intelligence HFM Asian Services Awards 2022!
This is only the second year they have entered into these awards. Last year they were shortlisted for several. This year as well as being shortlisted in other categories, they have been awarded as winner in 2 categories of the HFM Asian Services Awards 2022!
> Best Tech Infrastructure Provider
> Best Cloud Tech Provider – Public
Great job team!
Congratulations to all the Velocity Technology family. You can connect with them directly here: https://www.velocity-technology.com/
#technology #awards #bestcloudtechprovider #besttechinfrastructureprovider