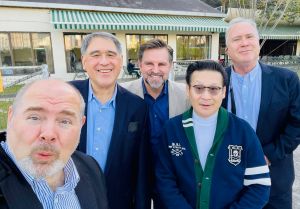 PBEC CEO Michael Walsh and Treasurer Anson Bailey hosted a few of our HK based PBEC Directors for its first informal face to face lunch of 2023 in January prior to CNY.
In attendance were directors; Lester Huang, Anson Chan, Sebastian Man, Diana Chou & David Armitage. Apologies were received from Lei Yiu, Thomas Wong and Ben Simpfendorfer.
"It was lovely to catch up together, given the lifting of the covid restrictions in Hong Kong. The Aviation Club is situated in Kowloon City, but these days doesn't see any flying, but has a long standing tradition in the local aviation community. There are simulators for cadets and some engineering classes are also offered besides the F&B on offer. It's a venue for relaxing in and that's what we did, with a leisurely lunch talking about each others recent experiences, updates and upcoming travel plans for the CNY. It was also an opportunity to highlight PBEC achievements in 2022 despite covid and to look ahead to 2023 priorities for the members. More networking events and activities were asked to be put on the menu, as members and prospects want to meet each other face to face at this time." Observed by PBEC CEO Michael Walsh.