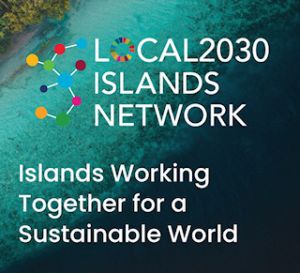 At our Annual Dialogues Summit 2022 in November, PBEC teamed up with The Local2030 Islands Network and advocate for Dashboard data monitoring software as an essential tool in sharing best practices to mitigate emissions and achieve its SDG goals.
It is the world's first global, island-led peer-to-peer network devoted to advancing the Sustainable Development Goals (SDGs) through locally driven solutions and we really like many of the initiatives this group is developing, so its only fair we share. Sharing is caring!
Dashboards as Visual Organization of Data
The Local2030 Islands Network offers SDG and Localized Goal Monitoring Dashboards using ESRI software to its members to define and track national and subnational progress on locally determined goals and the SDGs, modelled after Hawai'i Green Growth's Aloha+ Dashboard. 
Dashboards serve as accountability and transparency mechanisms tied to political commitments and local context and offer opportunities for multi sector collaboration (i.e., education, science, data, community outreach).  It can provide demonstrations, onboarding and continuous training from Hawai'i and Guam to other Island nations seeking such tracking solutions to achieve their goals.
Attached is their April 2023 updates – month one of renewed face to face engagement, dialogues and activities report since the pandemic for your kind review.
If you would like to learn more about some of these cool and interesting initiatives or would like to get involved, pls email pbec@pbec.org or contact Celeste Connors directly at Hawai'i Green Growth | UN Local2030 Hub
Email: celeste@hawaiigreengrowth.org
Web: https://alohachallenge.hawaii.gov
About The Local2030 Islands Network: The Network provides a peer-to-peer for engagement amongst and between islands to share experiences, spread knowledge, raise ambition, promote solidarity, and identify and implement best practice solutions. 
The Network also connects with a diverse set of organisations, and NGO communities from all regions of the world – islands connected through our shared island experiences, cultures and vision, working to develop and share
innovative homegrown solutions that can change the world.