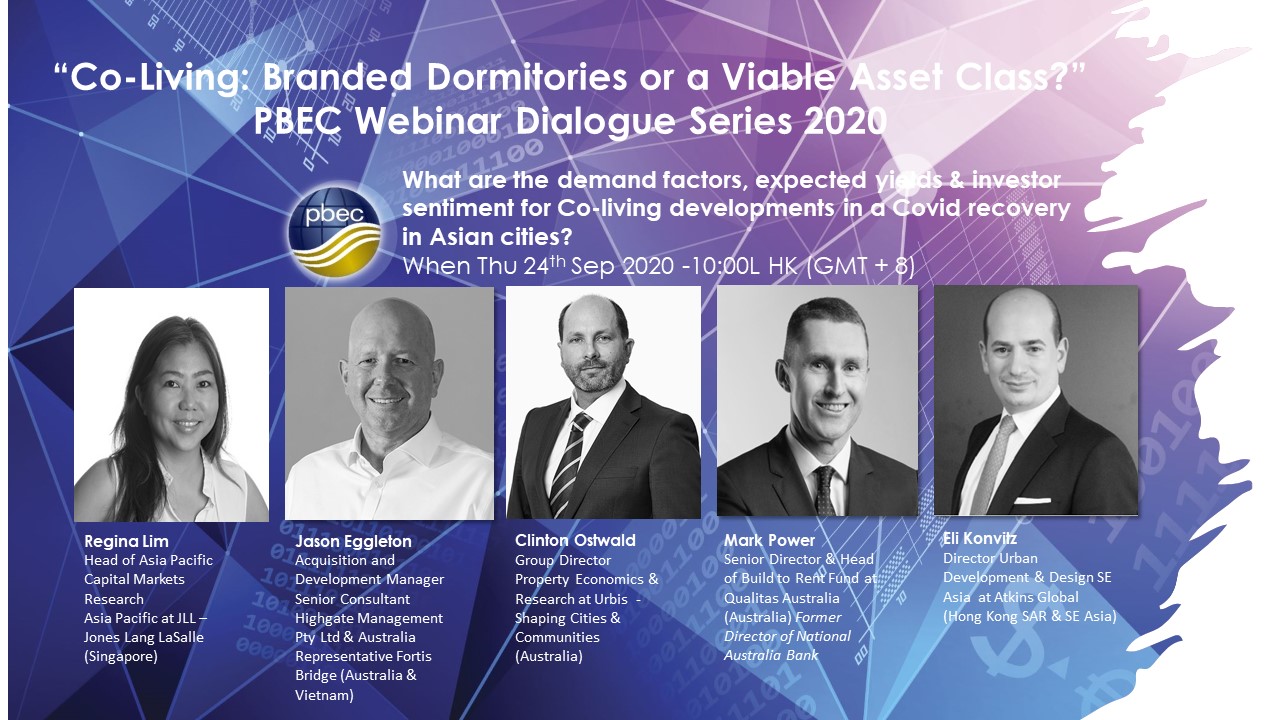 Download the presentation slides here
Stream the presentation here
Or watch it on Youtube:
Webinar Presenters
Regina Lim (Head of Asia Pacific Capital Markets Research @JLL – Jones Lang LeSalle) Singapore
Regina Lim is Head of Capital Markets Research and Southeast Asia Research. She drives thought leadership, client engagement and research publications in Southeast Asia, as well as helps out with deal and transactions-related advisory work for both the Singapore Capital Markets and Asia's Corporate Finance team. Prior to joining JLL, Regina was the Head of Singapore Equity Research and Head of ASEAN Property at Standard Chartered. She has over nine years of experience covering Singapore developers and SREITs in UBS and Standard Chartered. From 1998 to 2006, Regina worked for Singapore′s Urban Redevelopment Authority, where she undertook property research, land sales policy and planning policy studies. She graduated from Oxford University with a Masters in Engineering, Economics and Management.
Jason Eggleton (Acquisition & Development Manager @Highgate Management Pty Ltd & Fortis Bridge) Australia & Vietnam
Jason has been able to acquire numerous sites off market and manage the development application process achieving development approval thus enabling financially rewarding outcomes. With excellent stakeholder management skills and good local government relationships he has been involved with the acquisition of englobo land for subdivision, the development of industrial, commercial, mixed use, affordable housing, (boardinghouses) and medium/high density residential development that have all been approved and delivered.
Clinton Ostwald (Group Director Property Economics & Research at Urbis – Shaping Cities & Communities) Australia
Clinton is an expert in economics and property investment, with a focus on developing urban environments that create material benefits – for his clients and the community. He is adept at preparing market and economic insights that shape the development of major cities elements such as town centre mixed-use precincts, retail centres, residential areas and employment nodes. Clinton applies his analytical and creative skills in areas as diverse as highest and best use strategies, economic impact assessments, retail master planning, residential market assessments and specialised land uses – such as student accommodation, education, health and tourism.  He has recently worked on a number of new residential concepts including Build to Rent and Co-living proposals.
Mark Power (Senior Director & Head of Build to Rent Fund @Qualitas & Former Director at National Bank of Australia) Australia
Mark has over 25 years in structuring and executing on commercial and corporate finance transactions at NAB, ANZ and CBA. Prior to joining Qualitas he held several roles within Corporate Property, National Australia Bank over a period of 16 years, the last 9 years as Director. His role included origination and execution of complex property transactions, to a client base consisting of Melbourne's ultra high net worth private family groups.
Eli Konvitz (Director Urban Development & Design SE Asia @Atkins Global) Hong Kong SAR  & SE Asia
Eli leads Atkins' urban development advisory and master-planning consultancy for South East Asia, and is Chair of Atkins' Urban Planning Global Network. He also Committee Chair for Programming at ULI – Urban Land Institute Hong Kong. He is a strategic thinker and professional in the fields of city-building and the global built environment, bringing together knowledge of urban development with leadership and relationship management skills, commercial acumen, and project delivery. Chief interests include future-proofing cities, large-scale urbanisation, transit oriented development, and the public realm.