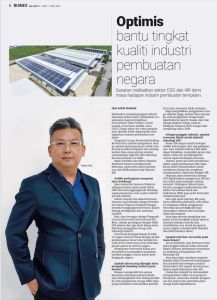 PBEC's Powerwell International Sdn Bhd, a wholly owned subsidiary of Powerwell Holdings Bhd, has successfully obtained a purchase order (PO) worth RM40 million from a solar supplier company in Bangladesh, Dynamic Sun Energy Private Ltd which is also a unit of Paramount Group Bangladesh.
In a statement today, the manufacturer of low voltage (LV) and medium voltage (MV) electrical power supply equipment said the new PO is expected to contribute positively to consolidated income and net assets for the financial year ending 31 March 2024.
"Powerwell International will supply MV switch panels using 33 kilovolt and 800 volt LV insulation panels and other supporting equipment for the current PO expected to be fulfilled by September 2023 to Paramount group's new solar power plant project at Bhabanipur, Pabna, Bangladesh.
"The project is part of the Paramount group's plan to diversify its business in the energy and green energy sectors," he said.
Read More HERE