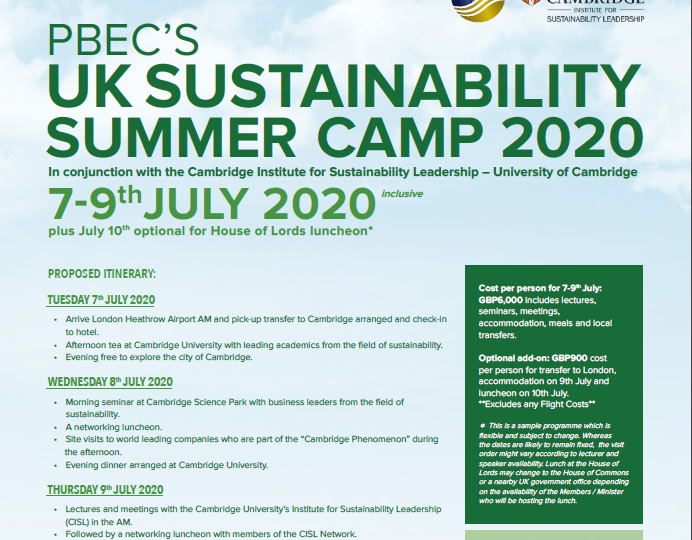 In conjunction with the Cambridge Institute for Sustainability Leadership – University of Cambridge
7-9th JULY 2020
plus July 10th optional for House of Lords luncheon*
PROPOSED ITINERARY:
TUESDAY 7th JULY 2020
Arrive London Heathrow Airport AM and pick-up transfer to Cambridge arranged and check-in to hotel.
Afternoon tea at Cambridge University with leading academics from the field of sustainability.
Evening free to explore the city of Cambridge.
WEDNESDAY 8th JULY 2020
Morning seminar at Cambridge Science Park with business leaders from the field of sustainability.
A networking luncheon.
Site visits to world leading companies who are part of the "Cambridge Phenomenon" during the afternoon.
Evening dinner arranged at Cambridge University.
THURSDAY 9th JULY 2020
Lectures and meetings with the Cambridge University's Institute for Sustainability Leadership (CISL) in the AM.
Followed by a networking luncheon with members of the CISL Network.
The CISL network is made up of 8,000 senior leaders representing business, the public sector and civil society from every industry and on every continent.
Visit https://www.cisl.cam.ac.uk/ for further details with a view to continue a flexible online sustainability and leadership course over the following weeks and months to develop a bespoke programme suited to an individual's requirements.
Finish early afternoon for check-out and transfers to Airport or London.
FRIDAY 10th JULY 2020 (OPTIONAL EXTRA)
Hotel pick-up AM.
Luncheon at the House