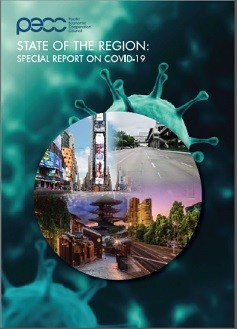 Respondents to a PECC survey do not anticipate a swift rebound from the crisis in 2021 with growth levels for the Asia-Pacific remaining below 2019 levels for the next 3-5 years.
The survey of 710 policy experts from business, academia, government and civil society was conducted from 19 May to 12 June, 2020. An analysis of the responses also provides insights for further commentary on the regional outlook and the strategies available for transitioning out of the current situation.
One of the great uncertainties is when and how to leave the lockdowns that have been the first response to the virus that would help to restart economic growth.
The response was clear – the top pre-conditions for leaving from lockdown were all related to public health issues such as the medical capacity to deal with the number of cases and evidence that number of new cases was reducing. After the medical conditions came the economic considerations and the need for international cooperation highlighting the nature of the pandemic as a global concern.
"The extraordinarily pessimistic view amongst respondents has important consequences. International cooperation would send a strong signal about the future even as governments and societies deal with the crisis. Without a vision to provide a long-term strategic framework for regional governments and stakeholders to plan for the future, there is a risk that the recovery will be much slower than need be" said Mr Eduardo Pedrosa, one of the authors of the report.